Matt Nable's Ra's Al Ghul Might Fight Darhk in 'Legends of Tomorrow'
The actor returns in 'Legends of Tomorrow' as the nefarious DC villain.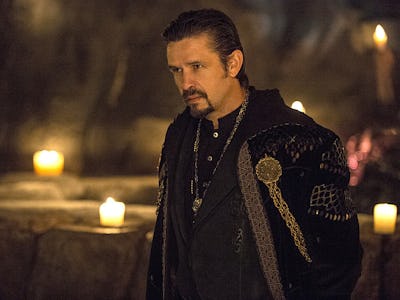 The CW Networks
Matt Nable put on a performance of the ages as Ra's Al Ghul last season on Arrow. Today, ComicBook confirmed with Warner Bros. the actor will reprise his role in the upcoming Legends of Tomorrow mini-series, which starts airing January 21 on the CW.
Last season, Nable's Ra's Al Ghul was killed and the Ra's Al Ghul title was succeeded by Malcolm Merlyn (John Barrowman). With Oliver Queen now fighting Damien Darhk — a rival to the old Ra's Al Ghul who would have inherited the title if he weren't a maniac — could we be in for a showdown? Actor Neal McDonough, who portrays Damien Darhk, told ComicBook he will also be in Legends of Tomorrow.
With a time-travel premise, it's likely the assembled heroes under the command of Rip Hunter (or Ray Palmer? Who's the real star of this thing?) could find themselves with an older League of Assassins. Or maybe Legends will have expositional flashbacks involving the two.
The time-travel angle proposes some of the more interesting scenarios. Should the Legends find themselves in a Nanda Parbat of the past, what kind of repercussions could that pose? Would that ruin someone like Sara, who was trained by the League to become White Canary?
Regardless, Arrowverse fans will finally see the fabled interactions between two villains who were much younger and much hungrier.