New 'Legends of Tomorrow' Trailer: Should They Kill Baby Vandal Savage?
The miniseries crossover of 'The Flash' and 'Arrow' tackles the age-old Twitter question.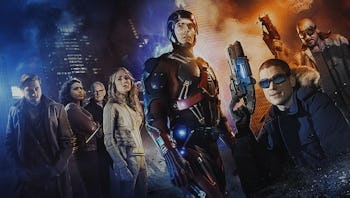 The CW Networks
It won't be until January when DC's Legends of Tomorrow premieres, but a new trailer just dropped and it's a whopping three minutes of new footage, giving a better look at its time-traveling premise and the villainous dictator of the future, Vandal Savage.
The mini-series crossover featuring the secondary heroes (and villains) of Arrow and The Flash pits the supers against Vandal Savage, a supervillain and maniacal dictator of the future. Rip Hunter (Arthur Darvill, Doctor Who) assembles a team to stop Savage before he establishes his dominance. So in essence, it's a show about superheroes killing Baby Hitler.
More importantly, the trailer has some heavy allusions to none other than Batman and Superman: "I've seen dark knights and men of steel fall." Gee, who could those be?
Legends of Tomorrow premieres on The CW on January 21.