Why Electric Car Company Faraday Future Is Following Tesla to the Nevada Desert
The company is jumping on a trend started by Tesla, and is taking advantage of generous tax incentives offered in the state. 
by Sam Blum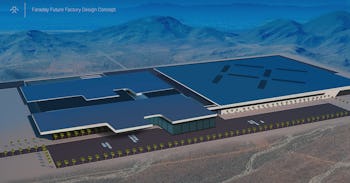 Faraday Future
The barren Nevada desert, replete with looming hills and stretches of arid sand, will be home to two of the world's largest electric vehicle production facilities in the very near future.
Announced today at a press conference attended by Governor Brian Sandoval was Faraday Future's decision to establish its first production facility in the city of North Las Vegas.
Not much is known about Faraday Future, other than its plans to unveil a prototype car at the next Consumer Electronics Show, but it's following the lead of Tesla by moving to the Nevada desert: Elon Musk recently announced that Tesla's own sprawling production facility, the Gigafactory, was destined to open in Sparks, Nevada by 2020.
Faraday's factory won't be quite as massive as the Gigafactory, which promises to be the second largest production plant in the world, but according to a statement released by the company today, it will still be comparable at three million square feet.
Behold, the rhetoric of innovation:
"We plan to construct something more than an ordinary 'assembly line' – we're creating a three million square-foot workshop for passionate creators and diligent visionaries, where new concepts will be refined and implemented; where new discoveries will be conjured and crafted; and where new possibilities can be made, well, possible."
The factory will rest just off the edges of Nevada's "electric highway," which is lined with EV charging stations, and will be built on grounds outlined by a map that the company released today:
At the press conference, Dag Reckhorn, vice president of global manufacturing at Faraday and a former senior executive at Tesla, noted that the production plant will be built following a $1 billion investment in the facility:
Like Tesla, Faraday Future intends to seize on the favorable tax subsidies offered to companies willing to establish operations, or move to the Silver State to conduct business. The Governor's Office of Economic Development offers a plethora of incentives for general business endeavors; however when large corporations establish base in Nevada, they're often given considerable leeway.
For example, the package ironed out between Governor Sandoval and Tesla amounted to a $1.2 billion subsidy, even though Elon Musk only asked for a $500 million incentive, or roughly half of what Tesla was given.
Faraday intends to ramp up production at an even faster clip than Tesla. Company leaders have said they plan to make an astounding 4,500 hires for various positions at the company. Some 50 percent of Faraday's hires must come from Nevada's local workforce, as per the deal agreed upon by Faraday and the governor's office. Tesla too is hiring, and currently has around 1,600 positions available.
Faraday's "positions will include a wide variety of professional and manufacturing employment opportunities, offering competitive pay and benefits," the company said.
While there's long been a culture of speculation surrounding Faraday Future, it looks like the company's public face has started to congeal, and in roughly the same region as its main competitor.
North Las Vegas will also play host to the first ever Hyperloop test track early next year, when Los Angeles-based Hyperloop Technologies puts to task Elon Musk's invention of a high-speed train, powered by air pressure and conduction.