Careers at Tesla: The Ups and Downs of Making 'Sexy Zero-Emission Cars'
You don't work at Tesla for the dopest stock option in Silicon Valley. 
by Sam Blum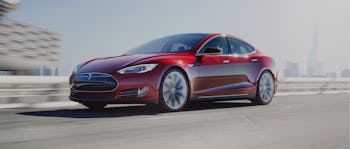 Tesla Motors
Working at Tesla Motors, the electronic car company started by Elon Musk — a science icon who's been compared to Iron Man on more than one occasion — isn't as idyllic and utopian as one might think. Even though Tesla has more than 1,600 job openings listed on its website, employees past and present cite long hours matched with what some say is inadequate pay — and panic-inducing deadlines — as glaring drawbacks of working at the innovative electric car company.
While Tesla has struggled to maintain profitability since it launched in 2003 — investor capital has kept its coffers robust — financial impediments haven't stopped it from staffing up its rank and file, which could bring the company into the land of profitability. (Bloomberg wasn't trolling when it clicked publish on this headline: "Tesla Hopes Hiring 1,656 People Will Make It Profitable.")
But what are people looking to work at Tesla trying to get out of a prospective job? After all, Tesla's perks and company benefits pale in comparison to what's offered by some of Silicon Valley's most prominent players.
It's not a cliche when Tesla employees say they signed on to work for Elon Musk because they believe in his mission of mass-producing "sexy zero emission cars" that are the safest and most energy-efficient, while remaining ludicrous, of course. Tesla employees leave comments in online job forums that they want to change the world.
So while their comments are as varied as the job descriptions, Tesla's career center runs the gamut of what you'd expect from an automotive company with global operations — with a tech-focused twist: There are listings for a Senior Software Engineer working on Maps and Navigation, there's a Product Specialist position open in Beijing that requires "exceptional self-management." There's a Vehicle Technician job open in Norway — pending you speak Norwegian.
The footprint for Tesla's corporate culture demands a kind of unwavering passion. In a Quora post that made the online rounds last year, Tesla employees past and present dished on their experiences of being stressed and overworked, but united by an unflinching dedication.
Bob Rush, a Lean Manufacturing Group Leader, wrote in August:
"Just my experience and opinion but unless you like challenges and embrace rapid changes Tesla is not a good fit for you. So far I have worked on culture changing events, been asked to participate in several projects to create more flow in Manufacturing, and been afforded a chance to learn new technology. I am part of a team changing the world under pressure but loving it. Passionate people are the norm here, not the exception."
Sofia Chan, a cell-battery Intern, wrote in August 2014:
"I'm in it for the phenomenal company vision, intellectual challenge, fast-paced environment, and the fact that this company is making sexy zero emission cars that revolutionize the way we think about fuel, energy, sustainability, marketing, service, and electric cars."
Tesla isn't particularly keen on touting company perks and bonuses on its website: That doesn't mean they're substandard by any means, but Tesla employees often view themselves as the Silicon Valley's black sheep when it comes to benefits and compensation. "The work is often very demanding. Some projects lack organization," one employee in Palo Alto wrote on Glassdoor, while another complained about the company's paid time off policy: "Wish there were sick and PTO days separated. They don't give enough verses other companies in the Bay Area." Another writes that Tesla "paid for BART fares and offered some shuttle options" but there was "no subsidy for gas or food," and that "parking is always a struggle." Like we said, ups and downs.
But for the legions of applicants destined to ping resumes at the company's soon-to-be beleaguered HR department, the long hours and comparatively small pay won't be a deterrent, only a motivating factor that feeds the company's biggest employee perk: innovating for the future.