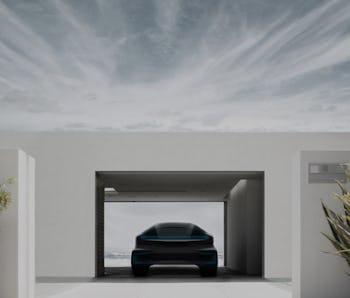 Innovation
New Electric Car Company Faraday Future to Unveil Its Rival to Tesla at CES
The public will get its first look at Faraday Future's electric car on January 4.
Faraday Future
What people don't know about electric car manufacturer Faraday Future is matched only by the company's expectations: Auto-industry experts assume Faraday to enter the fray as Tesla's first legitimate rival, and to employ an atypical economic model that experiments with "in-vehicle content," among other things.
Faraday revealed plans to unveil its first concept car on January 4, just in time for the Consumer Electronics Show in Las Vegas, and speculation encircling the mysterious company is again riding high.
The company has produced renderings of various vehicles on its website, and infrequently uploaded some pretty vague photos to its Instagram account (pencils!). That's left the public with very little foresight as to what Faraday's first vehicle might actually look like, and how design might play into the company's desire to offer "seamless connectivity to the outside world" though its vehicles.
What Faraday has offered is a segue into some grandiose ideas, and how a manufacturer of electric vehicles might one day expand on the very notion of what cars of the future are capable of doing.
Its website reads:
"We are also developing other aspects of the automotive and technology industries, including unique ownership models, in-vehicle content and autonomous driving."
In terms of "unique ownership models," the company has made brief statements about an unconventional subscription model, where customers will be able to drive different Faraday models depending upon various needs. The system would hinge on a user-first experience, where a customer could drive a small, compact car for commuting, and a bigger, family-sized vehicle when appropriate. Tesla, on the other hand, has made some un-telling statements about potentially doing business with Uber.
Earlier in November, Faraday announced plans for a $1 billion dollar production facility to start making vehicles by 2017.
Meanwhile, construction on Tesla's giant Gigafactory in the barren Nevada desert is already underway, and the company hopes to produce 500,000 electric vehicles a year.