Elon Musk Announces SpaceX's Return to Flight for Late December
by Sam Blum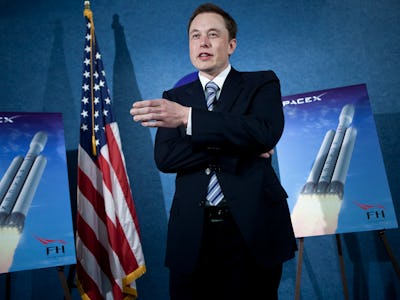 Getty
Overnight, while most of the United States was fast asleep, Elon Musk tweeted some very important aerospace news: His company, SpaceX, is making a return to flight, and will be launching its Falcon 9 rocket around December 19 from an Air Force facility in Cape Canaveral, Florida.
This mission is being engineered in conjunction with ORBCOMM, a company that mainly deploys satellites into space. According to a statement released by ORBCOMM, the SpaceX mission "will launch eleven next-generation OG2 satellites," which are generally used for "ship tracking and other maritime navigational and safety efforts."
The launch will mark SpaceX's first since June, when a Falcon 9 rocket exploded just two minutes and 19 seconds after takeoff. Fragments of the destroyed Falcon 9 were found drifting in territory as far away as the northern coast of England.
ORBCOMM CEO Marc Eisenberg previewed Musk's tweet on Wednesday afternoon, noting that his company's satellites were ready for lift off.
Since June, SpaceX has been filling out its calendar: Chiefly, it will collaborate with NASA to send astronauts to the International Space Station, beating out traditional aerospace leaders for government-contracted missions.
Musk's late-night announcement is the latest turn of the screw in the modern space race, where private companies are staking larger claims in the aeronautics industry: SpaceX's biggest rival is Blue Origin, led by Amazon CEO Jeff Bezos. On November 23, Blue Origin vertically landed its reusable rocket on its return from suborbital space — a first for any rocket-maker — prompting some rocket-focused subtweets from Musk.
While Musk announced a vague launch date for "around" December 19, the company will first have to test the Falcon 9's engines in a "static fire" phase.
When SpaceX tests engines, it usually looks something like this: