A Chunk of the SpaceX Falcon 9 Just Surfaced Off the Coast of England 
The unmanned rocket blew up in June. Now a part of it was confused for a dead whale.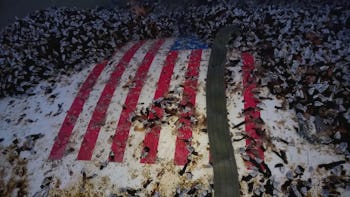 Maritime and Coastguard Agency
This summer the Falcon 9 — a SpaceX rocket bound for the International Space Station — blew up. Two minutes and 19 seconds in from its departure from Cape Canaveral, Florida an over-pressure event in the upper stage liquid oxygen tank caused the rocket to explode. It wasn't pretty unless Elon Musk's billion-dollar dreams exploding into hundreds of pieces is what you're into.
Now a section of the rocket, measuring at 32 feet by 13 feet, has been found near the Isles of Scilly — a group of islands off the southwestern tip of England. Local boatmen towed the goose barnacle-covered debris to the island Tresco, where it is currently under watch by the coastguard.
In a statement, Coastal Area Commander Martin Leslie announced that the debris, more than 4,000 miles away from where the rocket took off, was assumed to be a fraction of the Falcon 9.
"There were lots of gulls on the water and I thought initially it was a dead whale and the birds were feeding off it," Joseph Thomas of Tresco Boat Services told the BBC. "It's not everyday part of a rocket washes ashore at home."
So far Musk has not commented on the finding, which is strange seeing how he's normally so chatty on Twitter.