The 3 Coolest Jobs at Tesla
Designer, Autopilot engineer, and ... tour guide.
by Sam Blum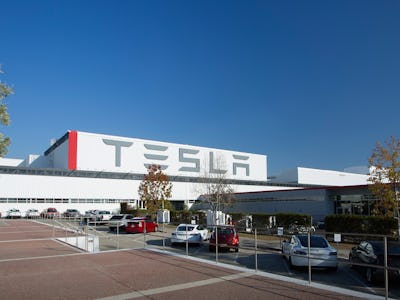 Tesla
Working at Tesla carries its own cachet: The company is a haven for those looking to change the world by way of engineering "sexy zero-emission cars," and its CEO, Elon Musk, is known for causing an uproar and being interviewed in GQ.
Plus, the company is hiring! Tesla currently has 1,600 open jobs listed on its website, which abound across the globe from Norway to China, California and Nevada, promising innovation at every turn.
There's a lot to be done at Tesla, but a source at the company tells Inverse that employees are all happy to do their respective parts for the larger mission at hand:
"Everyone I've ever spoken to just wants a job at Tesla. Whether it be in sales, engineering, or a front desk receptionist in HQ. They just want to contribute to accelerating the world's transition to sustainable transportation."
Here's a look at three Tesla jobs that look pretty enticing to us.
A Class Surfacer:
This is a role that prizes "digital sculpting," which in automotive industry parlance means designing the exteriors and interiors of cars. While this job is important across the trade, Tesla design must conform to an extremely unconventional mode of engineering, so the surface of every vehicle must adhere to a broad range of technological caveats. In short, A Class Surfacers are the people who designed the Model X, with its vertically expanding doors and sleek, unimposing features. According to the job description, they're also the people who brainstorm the "surfacing for future production cars as well as concept cars," so in a sense, Class Surfacers are tasked with constructing and even progressing the official Tesla aesthetic, which is indeed a tall order.
Autopilot, Sr. Systems Engineer:
Autopilot, Tesla's software that allows a vehicle to steer itself, react to traffic, and even save lives without the touch of a human, is without a doubt the closest thing the world has (yet) to a driverless car, currently available on the market. An Autopilot engineer is tasked with the most daunting and similarly progressive question facing the automotive industry today: When will self-driving cars dominate highways across the world, and how can we make that happen sooner, rather than later? This particular job requires a high-degree of competency and skill (Tesla would prefer a Ph.D. apply), but it's also one that Elon Musk has said he's conducting interviews for personally.
While this job would require a lot of face-time with the CEO, our source at Tesla notes that company structure doesn't hinge on hierarchy, and that all employees are encouraged to ping Musk with questions, and that many do.
She says:
"We don't have the general dynamic of voicing opinions to your supervisor, then their supervisor, and hope it reaches the right person. We can directly connect with the main source, whether it be the engineers, head of logistics, or Elon himself. It's all about working together to make sure we are working as efficiently as possible.
Tour Program Associate:
Admittedly not a position that'll give you the opportunity to work on the next generation of Ludicrous Mode, it's none the less an intriguing role: This is like being the gatekeeper of a future fortress, only you have to walk around and smile for the majority of your work day. This particular Tesla employee would be the ideal source for any journalist looking for background information on the company, because they ostensibly know everything about it. Aside from being a "brand ambassador" — which in most other contexts should inspire a cringe or two — you'll become involved with the minutiae of all things Tesla, from the vehicles, to the feats of engineering, to its nascent beginnings and future endeavors. Besides, you'll get to drive a passenger tram around the company's Fremont, California production facility. Beats sitting in an office all day.