10 Events That Defined Elon Musk's Crazy Year
There was a lot of future-building, plus some controversy, in 2015. 
by Sam Blum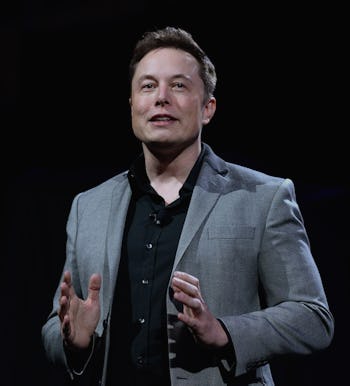 Getty
Despite being somewhat laconic in speech and disarming in personality, everything about Tesla and SpaceX CEO Elon Musk prompts an uproar. And why not? It's fun to speculate on his plans for futuristic electric cars, rockets going to space, solar energy, and the dreamy Hyperloop. This year was a big one for Musk as you'll read below. Here are ten mile-markers from a very busy 2015:
Musk unveiled the Tesla Model X with those "falcon wing" doors in September to requisite fawning and fanfare. He ambled around the stage at the company's Fremont, California factory and introduced the vehicle's next-gen specs and safety features. A whopping 30,000 orders had been placed for Model X before production began. Those primed to pay upward of $132,000 for the most expensive version of the car — the Signature X — can expect to zoom from 0-60 MPH in 3.2 seconds while engaged in "Ludicrous Mode." It's a big step for Musk and for Tesla, as it shifts the company directive toward a more expansive list of automobiles that continue to push the envelope of EV capability.
9) Hyperloop Materializes
Hyperloop — the transportation tube that would use air to whoosh passenger pods at peak speeds of 700 mph — might be the Musk idea that most changes the way people live. It could make cross-country travel a breeze if his vision of various interconnected Hyperloop networks — like a nationwide New York City subway — becomes reality. In January, Musk tweeted that the concept he first outlined in 2013 would be tested in Texas, pending the construction of a large test track there.
The tweet alluded to the formation of the Hyperloop passenger pod design contest. If Hyperloop does connect both ends of the United States at unprecedented speeds one day (there are more than a few questions undergirding its hype), we might see 2015 as a benchmark year in the history of Hyperloop and transportation. Hyperloop tests have already been planned.
8) The Falcon 9 Crash
The public might underestimate the difficulty of rocket science (or mostly ignore it, generally), but the technical and financial strain of blasting rocket ships into the sky became painstakingly clear for Musk when SpaceX's Falcon 9 rocket, bound for the International Space Station, suddenly exploded just two minutes and nineteen seconds from launch at Cape Canaveral, Florida on June 28. Falcon 9 was a beacon of aerospace hope and optimism — which was great — but then it exploded, leaving Musk with something bitter to chew on while competitors like United Launch Alliance and later, Blue Origin, enjoyed mission successes in 2015.
7) He appears on The Big Bang Theory
Musk appeared on the Thanksgiving episode of The Big Bang Theory, washing dishes in a soup kitchen with Simon Hellberg, who plays the Howard on the sit-com. Given that The Big Bang Theory is about the lives of science-nerds, Howard immediately melts into a puddle of awe-struck goo at the sight of Musk, who by playing himself, remained very calm and understated throughout the scene. It was a cute cameo for Musk, and showed the Tesla CEO's capable of being self-aware. Can anyone imagine Mark Zuckerberg, Tim Cook, or Sergey Brin ever doing that? Not a chance.
6) Twitter Beef with Jeff Bezos
It became apparent in 2015 that this new space race is heating up, and it's increasingly fueled by private capital. Amazon founder Jeff Bezos showed the world that SpaceX isn't the only player vying for space supremacy when his own company Blue Origin, landed a reusable rocket for the first time. The Blue Origin rocket, New Shepard, vertically landed at a site in West Texas on November 23. Bezos tweeted, calling New Shepard the "rarest of beasts."
In response, Musk got indignant as hell, tweeting some passive-aggressive messages to Bezos that showed a blush of his jealous side. Musk took Bezos to task over the fact that Blue Origin didn't really reach space, which the SpaceX CEO noted is much harder to do than blasting a vessel into a suborbital domain. If anything, the Great Blue Origin-Elon Musk Twitter Beef of 2015 demonstrated the wide-open playing field for private companies trying to contract with NASA.
5) Tesla's Ride-share Rumors
The question of Tesla's possible entry into the ride-share business was easily the most exciting part of a quarterly earnings call back in November. After an analyst asked Musk if Tesla would deploy its cars the crowded space, Musk's paused and said: "I think it's quite a smart question, actually," adding that Tesla's strategy wasn't "fully baked." The call prompted a storm of speculative tweets about #UberTesla, ushered a surge of coverage, and brought to the fore statements made by Uber CEO Travis Kalanick, hinting that the ride-share service might buy 50,000 Teslas by 2020.
4) The "Gigafactory"
In order to effectively revolutionize modern transport, Tesla needed a suitable facility, replete with 13.6 million square feet and 3,000 acres of space, amenable to all sorts of grandiose schemes and feats of engineering. Enter the Gigafactory: The manufacturing site for Tesla's electric batteries lies in the arid Nevada desert, and will provide the necessary straight shot route to its automotive factory in Fremont, California. The $5 billion Gigafactory will be the second biggest production plant in the world, second only to Boeing's airplane assembly building in Everett, Washington. The Gigafactory will be flanked by gleaming solar powers, meant to partially power production on the largest sum of lithium ion batteries produced on the planet. To paraphrase just how magnificent the production rate will be relative to the factory's size, Musk said in 2014 that the Gigafactory will "be bigger than the sum of all lithium-ion battery factories in the world." The Gigafactory is set to open its doors in 2020, just like when many of Musk's other blue-sky ideas will be supposedly put into action.
3) Scrutiny Over Government Subsidies
In May, the Los Angeles Times published a piece with the headline: "Elon Musk's growing empire is fueled by $4.9 billion in government subsidies," which is by and large, true. The LA Times reported that this total subsidy "comprises a variety of government incentives, including grants, tax breaks, factory construction, discounted loans and environmental credits that Tesla can sell." While this again is true, anyone who knows Tesla understands that the company has struggled to enter the land of profitability since its inception, and that a steady stream of investment has helped it immensely, but not entirely. While the Times piece highlighted this reality, it also brought to the light the notion that Elon Musk can't do what he does alone. He isn't exactly Iron Man without a little governmental help.
2) Autopilot 7.0 Update
In October, Tesla rolled out the most significant update of its Autopilot software, which many believed would unleash completely self-driving cars upon an insatiable public. While that didn't really happen, the update was still subjected to frothy hype and praises of "life saving" porportions: Dreamworks Animation CEO Jeffrey Katzenberg even publicly thanked Elon Musk for saving his life after crashing his Tesla Model S. While the news wasn't quite the revolution hoped for by hordes of techies, the update is still pretty remarkable: Test-drive videos show steering wheels turning on their own, allowing Teslas to negotiate busy freeways and hug turns alongside massive trucks. In essence, Autopilot 7.0 is another step toward autonomous tech, and an indication that it's leading its competitors by miles.
1) SpaceX Wins Government Contract for Crew Space Mission
SpaceX is sending astronauts into space, and became one of four private aerospace companies collaborating with NASA on its Commercial Crew Program in November. Going forward, SpaceX will find itself as a prime companion of the United States government, potentially helping the Pentagon and Air Force deploy GPS satellites into space. First, however, the company is sending four astronauts to the International Space Station in 2017 — that's a huge step, especially as the commercial space race heats up, and traditional leaders like Boeing fail to nab crucial government contracts. And who knows, the more Musk is able to blast his rockets beyond the stratosphere, the more conjecture is likely to surround his wild scheme of resettling humans on Mars or another distant planet.