'Destiny' Hosting More Events Like Multiplayer Sparrow Racing, Less DLC Signal the Future of Gaming
Bungie may molded the new business in blockbuster video gaming.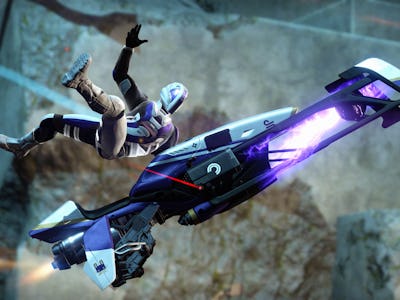 Activision
The Sparrow Racing League is off the blocks in Bungie's sci-fi online shooter Destiny, and the event may be a harbinger of the game's, and perhaps the gaming industry's, future. In a Eurogamer interview, senior designer Derek Carroll said Destiny is moving towards limited "events" instead of traditional DLC and expansions.
"Rather than doing these giant, monolithic DLC packs, this way everybody who's an owner of Taken King [expansion] can enjoy these things," Carroll told Eurogamer. A few months ago, a report by Kotaku said planned DLC, besides The Taken King, was postponed to be part of the full-fledged Destiny 2 (title pending) due in September 2016.
The change, Carroll hints, comes from the fan community's response to events like Sparrow Racing League and the October bonanza Festival of the Lost. He explained: "The live team is charged with maintaining the game and keeping players happy, feeding them new content and surprising them with things they didn't expect."
To keep revenue flowing into what could be considered "free" expansions, Bungie sells cosmetic content like costumes, dance emotes, and other fun stuff that offer zero advantages in competitive multiplayer. While no concrete figures exist, the cosmetic content in Destiny reached the top of PlayStation's sales charts. From what can be seen, the strategy works.
Is Bungie leading the future? Consumers have been vocal about their annoyance for gaming microtransactions, feeling cheated for paying full retail despite the extra content already being on the disc and requiring additional fees to access. (Even Destiny has been an example.)
But Bungie's new plan proposes an attractive alternative that doesn't force consumers to spend more, but entices them to, in small doses. As Bungie proved, the small dollars add up.
Until then, Destiny Guardians appear content to race and shoot each other and will keep playing so long as the lights are on at Bungie.