'Destiny 2' to Be Developed by Bungie, High Moon Studios for September 2016
Bungie and High Moon Studios will be joining each other's fireteam to take on the full-fledged 'Destiny' sequel.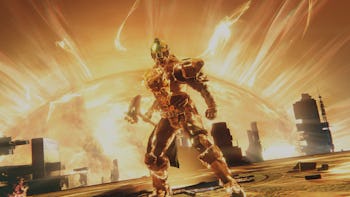 Activision
Tucked in Kotaku's revealing article on Destiny's troubled development and changes to its story were a few tidbits regarding the full-fledged sequel, Destiny 2. According to Kotaku's sources, Destiny 2 will be co-developed by Bungie and High Moon Studios and will be released September 2016.
In Jason Schrierer's article, an entire chunk of this year's Destiny expansion The Taken King was cut from the final product and shuffled into Destiny 2, which will be worked on by High Moon.
The team ultimately decided to focus it around a single major map—the Hive ship that had been cut from vanilla Destiny—as well as a new public space on Mars, complete with strikes and a new raid. (That entire last Mars chunk was later cut and passed to Activision subsidiary High Moon Studios to develop for Destiny's full-sized 2016 sequel, a source said. They're helping Bungie make the game.)
Of other note is the name Destiny 2, which is just a placeholder. Destiny 2 could be named something else entirely. In discussing Activion's new strategy for downloadable content — pay for cosmetic crap like dance emotes (which people totally will), release story missions out for free — Schrierer remarks:
What if, instead of releasing two more DLC packs after The Taken King, they tried something new? What if they sold cosmetic items in the Tower? And then put out a dripfeed of free content to keep people playing in the months before "Destiny 2"—or whatever they wind up calling it—in the fall of 2016?
Lending credence to Kotaku is a job listing on High Moon's careers page looking for a Mission Designer who is "passionately familiar with the Destiny franchise." High Moon Studios previously developed several Transformers games, Deadpool, and assisted on Call of Duty: Advanced Warfare.
This Friday, Oct. 23rd, Bungie will introduce King's Fall: Hard Mode, which was previously slated for Oct. 30th. The final raid in acclaimed The Taken King expansion will be cranked up a notch in terms of difficulty.
On Bungie's blog, they recommend players have a Light level between 300 to 320 and the loot that will drop will be somewhere between 310 and 320. You might want to bring some friends along too.