What You Need to Know About 'Destiny''s Sparrow Racing League
Live your life a quarter mile at a time, from December 8 through December 29.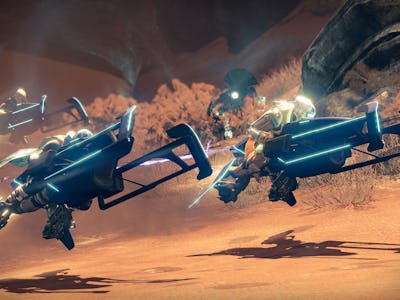 Activision
Tomorrow, December 8th, Bungie kicks off the three-week Sparrow Racing League in Destiny. Guardians everywhere will hop on their Sparrows and race for glory and exclusive new Sparrow vehicles. Similar to holidays like the recent Festival of the Lost, the Sparrow Racing League is a limited event that will run from December 8 until December 29.
Here's what you need to know to get started.
The event is open to all Destiny players with The Taken King, but there are some goodies competitors will win exclusively on the PlayStation 4.
The update goes live on December 8. Once installed, visit Amanda Holliday in the Tower, the Quartermaster for the event. She'll give you some bounties and quests to complete before you can take your place on the starting line.
Check in with Tess at Eververse Trading. She'll have some cosmetic stuff for sale you might want to put on before racing.
There are exclusive Sparrow Racing League costumes with changeable colors, but you can also wear your usual gear and even your Festival of the Lost masks.
The events are a six-player race through enemy territory. So you're not just competing against fellow Guardians, you'll also have to dodge Taken and Hive enemies who want you dead.
There are no "upgrades" for Sparrows, no shooting mechanics, and definitely no blue shells. Boosting at the right time and making sure you cross every gate will ensure you can maintain first place. Ramming into other Guardians can crash them off-course into walls and enemies.
There are two courses: Mars, the "easy" course, and Venus, the more advanced track dubbed the "Infinite Descent." The finish line is a portal that brings you right back to the top.
Of course, no race is complete without a sick playlist to get you psyched. Allow Inverse to suggest some tracks you should blare to pump you up as you're speeding through Martian and Venetian landscapes.
(Spoilers: They're all from the Fast & Furious soundtracks.)
Ja Rule, "Furious"
Teriyaki Boyz, "Tokyo Drift"
Atari Teenage Riot, "Speed"
Pitbull feat. Lil' John, "Krazy"
Basically the entire Fast Five soundtrack.
Wiz Khalifa and 2 Chainz, "We Own It"
Wiz Khalifa feat. Charlie Puth, "See You Again"
Because all Guardians are family in the end.