New 'Force Awakens' Featurette Reveals Mysterious Character Maz Kanata 
That, coupled with all the trailers and TV spots, reveals who Lupita Nyong'o's character is in the new 'Star Wars' movie... we think.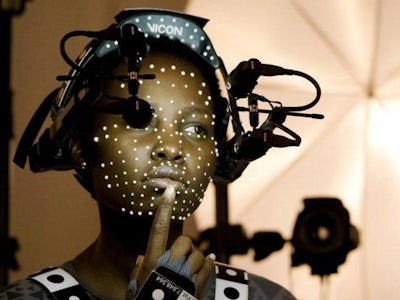 StarWars.com
We haven't seen much of actress Lupita Nyong'o's new Star Wars character Maz Kanata save for a minuscule look smack dab in the middle of the official Force Awakens poster art. But we've definitely heard her before: Her character gave the goosebumps-inducing, "The Force, it's calling to you. Just let it in" speech that capped the final trailer and the "I see your eyes, I know your eyes" lines in a few TV spots. And now we've got our first glimpse of her in the actual movie.
Don't get your hopes up for even a few seconds of screen time, as Kanata popped up for about a millisecond in a featurette for Disney XD, the Mouse House's teenage-focused outlet. The semi-grating minute-long set visit features a walk through the Millennium Falcon set, but around the 14-second mark we finally get to see Maz's orange face and huge goggled eyes.
Did you miss her? She's the E.T.-looking creature in the bottom left corner of the shot of Finn firing up Luke's lightsaber. Here's a closer look:
The character has been kept under wraps by Abrams for mysterious reasons, but he let some details slip to Entertainment Weekly last month. "Her history is that she was a pirate for a long time," he told the magazine. "She's lived over a thousand years. She's had this watering hole for about a century, and it's like another bar that you'd find in a corner of the Star Wars universe."
Is that bar he's referring to the Cantina-like setting where we'll get to hear composer/musician/genius Lin-Manuel Miranda's new original music? What's up with her eyes, and why is this pseudo-Jabba character with a castle a good guy? We're getting ahead of ourselves.
The castle he's referring to seems to be the one Han Solo drags Finn and Rey to see in the trailers decked out in many multi-color flags. That, coupled with Maz's appearance alongside Rey in the middle of a stormtrooper battle makes us think the castle is the one seen crumbling in the trailers as well. Considering Maz was seen handing someone Luke's lightsaber in the original trailer from April of last year, it's a safe bet the First Order and overly crazy Vader fanboy Kylo Ren come looking for it and don't leave quietly.
But then again, who knows? Find out when The Force Awakens hits theaters next week.