J.J. Abrams Reveals 'Star Wars' Collaboration With 'Hamilton' Creator Lin-Manuel Miranda
The 'Hamilton' creator and star wrote a new piece of music for 'The Force Awakens' that's an homage to the cantina sequence from the 1977 original.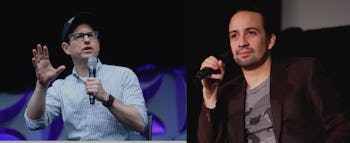 Getty
When J.J. Abrams asked him to write a new piece of music for Star Wars, Tony, Grammy, and MacArthur Award-winner Lin-Manuel Miranda did not throw away his shot.
During his appearance on The Tonight Show with Jimmy Fallon on Monday night, the Star Wars: The Force Awakens director complimented Fallon and the members of the Tonight Show house band, The Roots, on the freestyle rap battle they did with Miranda a few weeks ago. Abrams then let slip some details about musical collaboration between he and Miranda for the new movie that hadn't been revealed until now.
The meeting of the minds all started when Abrams took his son to see Miranda's current smash musical Hamilton. According to Abrams, Miranda approached him during intermission and joked about contributing to the movie.
Abram explained, "He says, 'Hey, if you need music for the cantina, I'll write it." The off-hand comment inspired the director to join forces with Miranda since composer John Williams opted out of creating new music for the new movie's iteration of the famous cantina scene in the 1977 original.
When the director asked Miranda to seriously consider writing a new piece of music, the Hamilton creator told Abrams, "I'll drop everything!" The pair then worked together by sending files via email back and forth for inclusion in the new scene.
And just how did Miranda fit the new once in a lifetime project in between performances of his hit musical? According to a tweet from Miranda, he wrote the music during a free hour and a half period two days a week for the past two months.
Miranda also confirmed he hasn't seen the movie yet.
We can't wait to see this new homage to the cantina scene from the original movie, but we also can't wait to see what kind of crazy music Miranda has written. Will it be as memorable and kind of annoying as the iconic Cantina Band tune?
Either way we hope the collaboration with Miranda will lead to the only logical next step: a legit Star Wars musical.