In the 'Star Wars: Force Awakens' Poster, Plot Clues Aplenty
New characters! Potential connections! And that's no moon, it's a space station!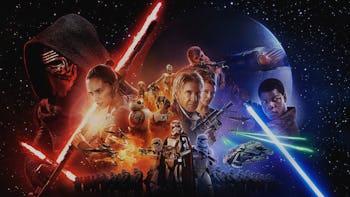 StarWars.com
As we told you yesterday, a new poster for Star Wars: The Force Awakens was unleashed upon the world, and geeks everywhere cried out in ecstatic joy.
It's all part of a big rollout for the final push before the movie is similarly unleashed upon the world in December. While we're also excited for the final trailer that will debut tonight during ESPN's broadcast of Monday Night Football, we still think the poster is worth pouring over before it's on to the next thing.
The artwork sticks to the basic layout of the prequels, featuring a starry black background and characters strategically placed in a sort of action tableau.
Unfortunately, it wasn't created by artist Drew Struzan, whose work is nearly synonymous with Star Wars. Instead it was art directed by newcomer artist Bryan Morton. Struzan did however create the fan-only D23 art from earlier this year, but it looks like he didn't want to come out of retirement to make the new one. Unfortunately this makes the new poster look like a Struzan ripoff more than anything.
Besides small looks at the Millennium Falcon, a few X-Wings, and a whole mess of stormtroopers, what else is there to see?
First off, it's telling that Rey is front and center, echoing Lucasfilm president Kathleen Kennedy's statements from last week that her character is "extremely significant." Does that mean she's Leia's daughter? Aligning Kylo Ren's red lightsaber and Rey's staff is also an interesting design parallel. Does this mean they're connected somehow?
Following the small Instagram snippet released of John Boyega's character Finn wielding Luke's lightsaber, we get another shot of it on the poster. Does this mean Finn is going to be the next generation of Jedi?
The biggest and most important detail in the poster is on the top right corner. Do we spy a third Death Star, perhaps? If that's the case, fans will decry that a third world-destroying space station will just be a redundant addition to the plot. After the Rebel Alliance destroyed two Death Stars in the original trilogy already, would the remnants of the Empire pool all their resources together to just build another one to be inevitably destroyed again? I guess they don't know that "fool me once, shame on me; fool me twice, shame on you" joke. It seems too obvious a detail to just leave it at that, so we'll leave it up to the movie to surprise us.
For one last little detail, scope out the credits at the bottom. Despite being dumped after writing an initial draft for a new screenplay by director J.J. Abrams and co-screenwriter Lawrence Kasdan, it looks like screenwriter Michael Arndt will receive a writing credit after all.