Here's the Final Poster for 'The Force Awakens'
The final trailer will follow on Monday night.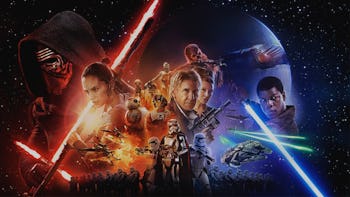 StarWars.com
It's here! The first look at the final one sheet for Star Wars: The Force Awakens has been revealed and it's a doozy.
There's been a bit of a strange history when it comes to posters for The Force Awakens. This is technically the third poster to be released from director J.J. Abrams' newest installment, but the second official poster.
There was the poster below that was sent out to movie theaters months ago. It's simple, gets the point across, and is fairly unexciting.
Then there was the poster below, which was given to attendees of Disney's D23 expo earlier this year. That poster was painted by legendary poster artist Drew Struzan, who came out of retirement to create the still straightforward but gorgeous art. Struzan also created the poster art for all of the previous installments of the Star Wars saga.
This is only the beginning of what's in store for Star Wars in the next couple of days. Be on the lookout for the final trailer for The Force Awakens to drop during Monday Night Football, and ticket pre-sales to begin after that.