Here's the Final Trailer for 'Star Wars: The Force Awakens'
This is the last footage you'll see until the film is released in December.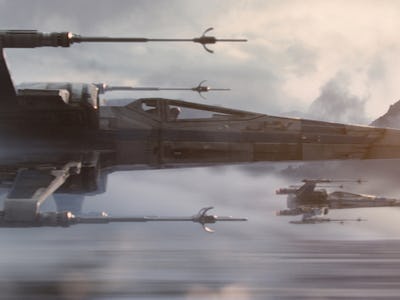 StarWars.com
We've waited months for this, and tonight's the night. Behold, in all its glory, the brand new final trailer for Star Wars: The Force Awakens.
It's been nearly a year since we first saw footage from director J.J. Abrams' new installment of the Star Wars franchise. In November 2014, the 90-second teaser was unloaded on the world. In that trailer, we got our first glimpses at one of our heroes, Finn; the desert planet of Jakku; the new droid BB-8; another one of our heroes, the desert scavenger Rey; X-Wing pilot Poe Dameron; and the new big baddie, the evil Kylo Ren.
That trailer racked up 58.2 million views on YouTube in its first week, beating out Avengers: Age of Ultron and Jurassic World for most first-week views.
The second teaser followed up five months later, debuting at this year's Star Wars Celebration this past April. It caused everybody to go similarly apeshit, logging 88 million views within the first 24 hours of being live on YouTube. It broke that record, which was previously held by Furious 7.
If bite-sized versions of the trailer is what you're into, check out the trailer teasers that were released in the lead up to the unveiling. Or, if non-motion pictures are your thing, here's our breakdown of what you can glean from the final poster art that was released on Sunday.
The festivities may be over for now, but look for this new trailer to break even more records as the anticipation for The Force Awakens builds to critical mass. As if you needed to be reminded again, The Force Awakens hits theaters on December 18.