Final 'The Force Awakens' Trailer to Drop on Monday
An official poster will be released on Sunday and tickets will go on sale Monday as well.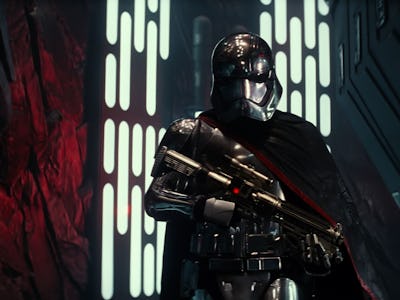 StarWars.com
What do we really know about The Force Awakens? Relatively little. Besides what you can infer about characters from the first two teaser trailers and details gleaned from toy boxes, there aren't many specifics known about J.J. Abrams' upcoming new installment. That may change on Sunday night.
Yesterday, movie site Screencrush reported that a poster and a final trailer for The Force Awakens would drop this weekend with ticket pre-sales starting thereafter to take advantage of the fanboy hype. A follow-up by iO9 confirmed the reporting, so it looks like we'll get a nice end-of-the-weekend Star Wars treat to make our Mondays a bit more tolerable. Not too shabby.
Here's a quick timeline of what to expect:
The official one sheet poster will be released Sunday morning, supplanting this as the only other poster released for the movie.
Tickets will go on sale shortly afterwards, capitalizing on the fervor and inevitably breaking pre-sale records.
Nothing is really known about what else to look for. But it wouldn't hurt to get some hint of the plot, some actual dialogue, and maybe a peek at new music cues just to prove that, yes, The Force Awakens is real and it's coming out in just about two months. We had Force Friday already, why not get all worked up and make this Star Wars Weekend, or at least Star Wars Sunday-Into-Monday.