2015 Game Awards Improves by Leaps and Bounds
The award show evolved from laughingstock to a legit, heartfelt event.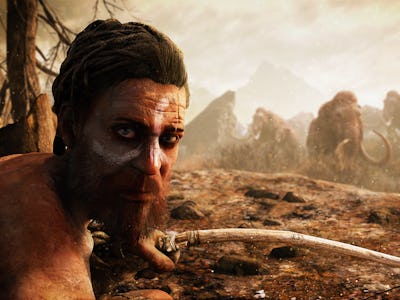 Tonight was The Game Awards in Los Angeles, hosted by Geoff Keighley, who previously hosted a decade of Spike Video Game Awards for that network. Last year, the rebooted awards got off to a rough start as they tried to distance themselves from their bro-tastic origins. This year's show was a vast improvement.
There were a few major announcements, that we've filed in more in-depth pieces you can take a gander at here: Psychonauts 2, The Walking Dead, Shaq-Fu, Quantum Break, Telltale's Batman, and Far Cry: Primal.
As we watched the event, the Inverse staff had a helluva night and thought we'd share a few of our biggest reactions.
Nicholas Bashore: I've always tried to walk into game award shows with my chin high and my eyes open, but no matter how positive I attempt to stay about it going in? I almost always sit down afterward feeling unsatisfied by the premieres, the guest appearances, and those who won in their respective categories. However, this year I walked away pleasantly surprised. Not only did we see some interesting announcements like Psychonauts 2 and Far Cry Primal's first gameplay trailer — but impressive tributes to Hideo Kojima and Nintendo's CEO Satoru Iwata.
More importantly though, we saw some truly phenomenal games taking home well-deserved awards. It was so gratifying to see developers from Her Story, Ori and the Blind Forest, and The Witcher 3: Wild Hunt up on stage and shouting proudly about their victory this year. Personally, I've always been a fan of the little guy -– and to see CD Projekt Red up on stage for their success with The Witcher 3 was awesome. Their development team has put so much effort into the franchise over the years, improving every aspect of the game as time went on; and I can't wait to see where they end up going next.
Eric Francisco: Unfortunately I'm still pessimistic. If the Video Game Awards want to have the prestige it aspires to have, the obvious shilling and advertising needs to be cut back. I get it: They have bills to pay. And it's not like the Grammys or Oscars are absolutely guilt-free of insidious advertising either. But I'm not sure if the blatant, obvious efforts are acceptable or insulting. Imagine if the Academy kept advertising discounts at the Criterion Collection's website throughout their entire broadcast. Film Twitter would have a field day with it. Are gamers just used to advertising influencing them?
That said, it was seriously neat to see smaller, non-Call of Duty games get the high-fives they deserve (Splatoon, holy crap!), a non-tacky tribute to one of gaming's best minds, and announcements that are actually worth paying attention to. Telltale Games doing a BATMAN game? I'm in all the way.
Brock Wilbur: I'm trying to just bask in the glow of what a huge step up this has been from previous year. The dude-bro backbone was completely obliterated, and games were at least awarded instead of bought by ads. Even mainstream stuff like Battlefront wouldn't have gotten anywhere near the stage except for their little tent. Within the first five minutes we snubbed Call of Duty and introduced a female protagonist to a AAA title game series and took time to appropriately mourn the passing of a game who helped re-invent video games dozens of times. This was about all that you could ask for from a mainstream, full industry production. We're getting closer to the dream of this becoming an approximation of the Academy Awards.
The coolest part, I thought, was this sudden sub-dive into the history of Westwood Studios and the friendly one-upmanship between them and Warcraft over the years. It was nice to have moments throughout that attempted to bandage the broken world of gaming communities, starting with a few lines in the intro video about how casual gamers are gamers too. So this emotionally energized segment with no product to push seemed to just be reminding us of the innovation this industry was one known for, and healing some open wounds. What a wonderful surprise and I cannot wait to see what they put together next year, now that I don't look at the VGAs as a laughingstock.
What was the low point for you guys? I know we agreed that some of the live-sales for Steam games and such were kind of a drag, but honestly if our biggest complaint is that this show had to have sponsorship, forget I raised this at all. Anything else?
Eric Francisco: My biggest issue is that it doesn't feel important. Not yet, anyway. I'm sure maybe one day it will, but right now the show doesn't carry the weight of other ceremonies like the Oscars or Grammys. I know that we're talking about gamers, but why is there no enforced dress code? Why was there a cluster around the front stage? Can the editing of the nominees be any more MTV and kinetic? If gamers want their favorite artform to be respected, embracing class and restraint is an important step. That loud ass "boo" when Geoff announced Hideo Kojima was legally barred from accepting his award was bad form.
Brock Wilbur: So yeah, a few missteps here, but overall a huge leap for the show. I don't feel like the last two hours were one big ad, so I'm pretty thrilled. Also, there's a whole world of people who never heard of Her Story that are going to get to experience that tomorrow, and that's great.
Full broadcast here: