'Shaq-Fu' Is Back and More Everything Than Ever
Fueled by nostalgia, Shaquille O'Neal's reboot hopes to fix the unfixable.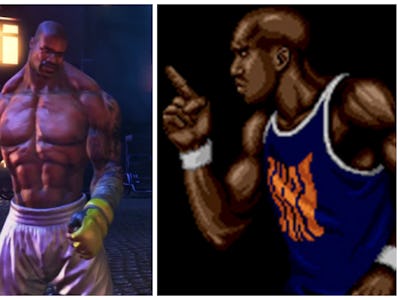 Back in 1994, a game was released that promised to combine the awesomeness of basketball star Shaquille O'Neal with home console gamers' love of fighting games. The result is the universally embarrassing Shaq-Fu:
It's the kind of historic bad that is even being referenced today on shows like Fresh Off The Boat for the memorable brutalization of childhood expectations. Still, anything we remember from the 90s has a power to it. That's what fetishist nostalgia is all about!
Last year, an IndieGogo campaign was launched to reboot the game and get it right this time. The project made its goal of $450k in under two months, even though it never adequately explained why Shaq couldn't just fund this out of pocket, and instead was rewarding crowdfunders with voicemails and dinners instead — presumably because that's more "wacky" than writing a check.
The project released a teaser, showing off what promised to be a more competent vision of an idea that really wasn't all that great to start with.
Such teaser, very muscles.
Since then, the game has kept fans updated every few months as it continues its development cycle and preparation for release on all major console platforms. The last major update comes from way back in July of this year.
Can't believe I forgot he was on his way to a charity basketball game in the original. What a wacky set-up for magical fisticuffs!
In a perfect world, the Shaq-Fu we'd be rebooting is his rap career of same name.
This week, the mythical beast himself announced that there would be a major announcement at The Game Awards.
Weird singular on the "fan" there, but hey, it's Shaq, so everything is hilarious.
Would tonight be the big reveal and what do we need to know besides the fact the game — which was funded by us — got made?
Tonight, Shaq took the stage to give an award to the best E-Sports team (which seemed to understandably confuse him) and to show off the new footage of the game.
Wow. That actually looks pretty fun? The side-scrolling brawler really seems to match not only the potential for creative fun but accepts the silly nature of the setup. Can a release date be near?
What will get rebooted next? Hopefully the most misunderstood film of all time.
We can only hope this will touch upon the greatness that was the reboot of fellow basketball star's licensed title in Barkley Shut Up And Jam: Gaiden.
You can keep up to date with developments on the game by following the official Facebook page here.