'Psychonauts 2' Will Happen If You Give It Money
Game announcement doubles as launch of crowdfunding campaign.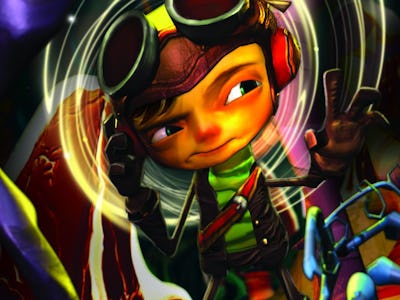 Perhaps the biggest surprise of The Game Awards in L.A. tonight was the trailer dropped for a sequel to the greatest cult game of all time, Psychonauts.
The original game follows the adventures of Raz and his new friends at a psychic summer camp, who jump into the heads of friends and foes to battle psychological monsters and sort emotional baggage. It's a perfect blend of quirky characters, brilliant level design, and rewarding gameplay that made its financial flop on release all the more disappointing.
For more than a decade, fans have clamored for a sequel, and praise Cthulhu, it looks like we have one!
And there's the rub.
Tim Schaffer announced that this isn't a full game yet. This is just the launch of a crowdfunding campaign for the actual Psychonauts 2.
Running through Fig and live right now, you can back the game for up to $10k as part of its campaign to reach $3.3 million. The reason Fig is being used is that, unlike Kickstarter, it allows for upper-end backers to directly invest in the game itself and share in profits.
There is $100k of backing already within the first few minutes, so of course this is going to hit its goal. Rewards included the ability to go on a camping trip with Tim and team, or help design a figment for the new game.
Now excuse me, I have to blow all of the money I was going to spend on Christmas presents making sure my name gets in the credits.