India's Planned Expansion of Coal Power Threatens the Planet
If rich countries want the developing world to embrace renewable energy, they're going to have to help pay for it.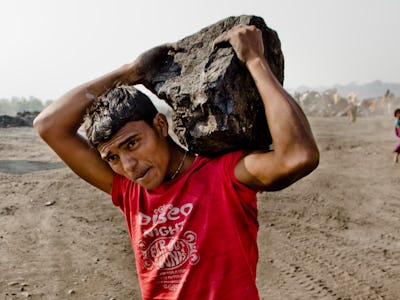 Getty
Planet Earth is holding her breath this month, anticipating the outcome of the COP21 climate change negotiations in Paris. Everyone's feeling pretty good about world leaders coming to an agreement that will acknowledge the threat of climate change, and have each country commit to doing its part. Will it do any good?
The primary sticking point of this and all past and future climate negotiations is this: The rich countries of the world got that way off the backs of burning cheap fossil fuels. They got us into this mess. But developing countries pose the greatest threat in terms of future carbon emissions. China leads the world in annual emissions, and India comes in third behind the United States.
Who is to blame? Who must shoulder the costs of mitigating climate change effects while make the transition to a low-carbon future?
India poses a particularly difficult problem for the planet's future. The country is poised to become the world's biggest economy by the middle of the century, according to a recent Wired article that goes long on India's energy conundrum. Will India choose to invest its resources in coal or solar? The country currently has ambitious plans to expand both, although India likely only has the capacity to really commit to one or the other, the author concludes.
Indian Prime Minister Narendra Modi was elected on a platform of sustainable energy, but has increasingly turned his attention to the prospects of coal to satiate the country's burgeoning demand for cheap power.
It's a scary proposition: Given the option between supplying its citizens with coal power or no power, there's little doubt what the Indian government would choose. The Prime Minister has promised that all houses will have electricity service by 2022.
But the choice is not India's alone. The rich countries of the world must show leadership in supporting the transition of developing economies to alternative energy. Prime Minister Modi said as much in a recent op-ed for the Financial Times.
The $100 billion in annual global funding that may or may not make it into the text of the Paris agreement is probably not enough, although it is likely a necessary first step.
The whole structure of the agreement rejects the idea of imposing restrictions on any country at all. Instead, each country has set its own targets based on what it believes is feasible. If this is going to work, all of the countries of the world are going to have to dig deep and think about not only how to make changes within their borders, but how to reach out and help global neighbors as well.