Lena Dunham Is Still Finding Her Way in the Season 5 'Girls' Trailer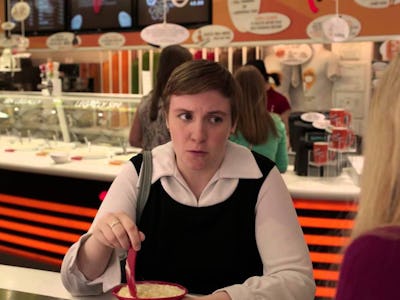 HBO/YouTube
The trailer for Season 5 of HBO's Girls is out today. It picks up where Season 4 left off with Hannah Horvath (played by Lena Dunham) alienating her new boyfriend Fran.
The trailer reveals very little that we didn't already know about our four main Girls. There are three prominently featured Boys (and one who pops up briefly), though, who look like they'll be more prominent than in previous seasons.
Let's start with Hannah: She's got a steady boyfriend (Fran) and a loving roommate (Elijah's still hanging around). Fran's not too happy about just how much Hannah loves Elijah (who is gay). An awkward bed-sharing moment could mean Hannah's not as into Fran as she'd like to be. She's had early-season boyfriends before who've fizzled out. It's not impossible that Fran gets thrown by the wayside.
Shoshanna: She moved to Japan for work! And she looks super happy there. It also looks like she got into kawaii. She's, somehow, still the voice of reason, which just means she's on the verge of a nervous breakdown.
As for the rest of the Girls, Marnie is getting married (apparently to someone she barely knows, but that's probably just Hannah being jealous) and Jessa doesn't do too much (as always).
The most direction-filled characters? The Boys. Ray is still running his coffee shop and he won a local election last season. He's even got a new employee this go-around: Elijah. Probably gonna be some tension when he's not a hard worker, Ray!
The final two boys are Fran and Hannah's ex Adam. Fran looks perennially uncomfortable. It's only a matter of time until there's the game of "Who'll dump whom first?"
All Adam does in the trailer is sport a goatee and fall on the floor. He was kind of happy in Season 4 without Hannah, but got unhappy again pretty quickly. Seeing her with Fran probably won't be too good for him. Maybe he and Jessa will team up as bad kids again and pee in public or something. Either way, his very short appearance is a tell-tale sign that his relationship with Hannah is anything but done.
Girls returns in full on February 21.