Lena Dunham's New Short Story "Six Sausages"
Her fiction provokes you to hate it.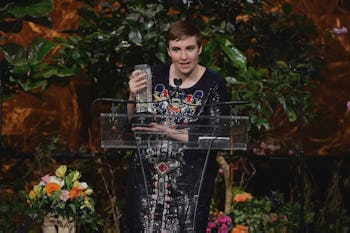 Theo Wargo/Getty Images for Variety
This fall, Girls creator and star Lena Dunham will launch Lenny with Jenni Konner, one of the show's executive producers and co-writers. The duo are touting it as "the email newsletter where there's no such thing as too much information." To promote Lenny, Dunham has released her first published short story, "Six Sausages," which will appear in Lenny Fiction Issue No. 1.
"Six Sausages" is firmly in Dunham's wheelhouse. It's about a college student who invites her maybe-boyfriend to her lavish Manhattan apartment for a romantic summer weekend. Spoiler: Turns out it's not too romantic — dude needs protein — and her hopes of finding true love are dashed.
The plot of "Six Sausages" is secondary to the protagonist's own musings, described by a close third-person narrator. She wants the boy and the weekend to be perfect, and even when it's not, she makes herself believe that it is. Although the world is moving around her, the story is basically happening in her own head. She wants to be in love, but almost more for a sense of approval than any kinship.
Around eight they walked a few blocks north for Mexican food and he bounced back, laughing at all her jokes. She exclaimed, "You're so funny!" when what she really meant was "I'm so funny!"
Overall, "Six Sausages" isn't great, but its shortcomings are similar to Girls'. The nameless protagonist is pretty detestable — not too different from Dunham's Hannah Horvath on the show — but the third-person narration fosters greater self-awareness. The jabs at the character are more noticeable when the prose mimics her own pretentiousness. (E.g., bangs are described as coming to "a gothic point.") Ultimately, "Six Sausages" chafes the reader, but it doesn't matter because Dunham is really writing for herself.
Girls is essentially navel-gazing, both for Dunham and the audience. Brunch is a real and serious thing. Allison Williams's Marnie Michaels performs an honest-to-God awful cover of Kanye West's "Stronger" before her singer/songwriter career actually takes off. The moments of satire and exaggeration are obvious, but the show also takes itself quite seriously. For many, the bourgeois New York lifestyle is either real or a real dream. There are plenty of moments throughout Girls where "you ruined brunch" is means for a crisis. The show stops being funny and it continues to be about an unaware narcissist.
Dunham's work will provoke strong responses because it's either meant for you or it isn't. If you're interested in her self-destructive, self-important characters, you'll love her output. But if the obliviousness is too much, things get grating really fast. With her fiction, Dunham is almost daring the reader to hate it. Her writing centers on what she cares about, unconcerned with perception. "Six Sausages" is at once impressed with itself and self-conscious. It's an inside look at one person's bloated ego. Through her writing, it's clear Dunham can see the character's flaws; she just might ignore them anyway.