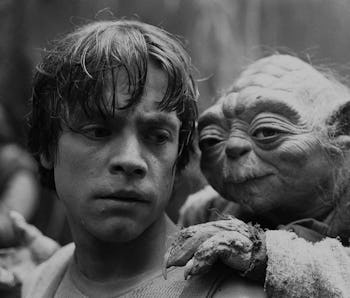 Entertainment
With #Force4Ham, People are Blending 'Hamilton' with 'Star Wars'
#Force4Ham the new song from 'Hamilton' creator Lin-Manuel Miranda in 'The Force Awakens.'
Last night on The Tonight Show with Jimmy Fallon, The Force Awakens director J.J. Abrams revealed that Lin-Manuel Miranda, the award-winning creator and star of the hit musical Hamilton contributed a new piece of music to his upcoming Star Wars movie. This is great news considering Miranda is literally a genius — he did, after all, win a MacArthur "Genius" Grant — and his contribution to the movie will undoubtedly be awesome. But it's also great because it allowed the internet to do what it does best: Make it into a meme.
Star Wars and Hamilton fans alike have taken to Twitter and mashed together Hamilton lyrics to images from the Star Wars saga using the hashtag #Force4Ham. It turns out, the lyrics to a hip-hop-inspired musical about founding father Alexander Hamilton match up pretty well with images from the epic space saga.
Here are some of our favorites:
There are way too many to mention here, but rest assured those precious few who are both huge Star Wars nerds and Hamilton theater geeks will love it. Come to think of it, the Miranda/Force Awakens collabo is also ridiculously good news to Disney and Lucasfilm.
Now the rabid musical-loving fanbase will undoubtedly flock to see anything Miranda does, adding that much more money to the film's already impressive grosses.