Ticket Pre-Sales for 'The Force Awakens' Are Already a Blockbuster 
Just to be clear, the new 'Star Wars' movie doesn't come out until the end of December.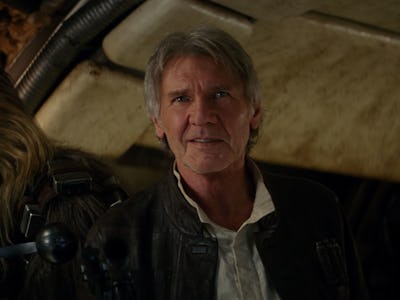 StarWars.com
It won't be out until just under a month from now, but The Force Awakens already has $50 million in the bank. A report from Variety says Fandango, the online movie ticketing service, confirmed that J.J. Abrams' new Star Wars movie is already well on its way to demolishing a bunch of box-office records.
The amount is the biggest ticket pre-sale figure in the history of two prominent ticketing companies, Fandango and MovieTickets.com. Both angered fans after their websites continually crashed when tickets went on sale once the movie's final trailer debuted during Monday Night Football last month. Hopefully, you aren't one of the poor schmucks that slapped down hundreds of dollars for opening-night tickets; according to Variety's report, theater chains keep adding extra showtimes for opening weekend to keep up with demand.
With $50 million in grosses already, The Force Awakens will most likely breeze past Jurassic World's record breaking $208.8 opening weekend earlier this year. This means it'll also shatter The Hobbit: An Unexpected Journey's seemingly paltry $85 million December record.
For even more perspective on how ridiculous this amount is, The Force Awakens, which, again, won't be released in theaters until December 18, has already grossed more than such classics as The Expendables 3 or such 2015 releases as Steve Jobs, The Last Witch Hunter, The Man from U.N.C.L.E., Crimson Peak, Sicario, Burnt. Poor Burnt. Sorry, Burnt.