'Star Wars' Tickets Are Going for Hundreds of Dollars
Over-spending on tickets to 'The Force Awakens' is the work of the Dark Side.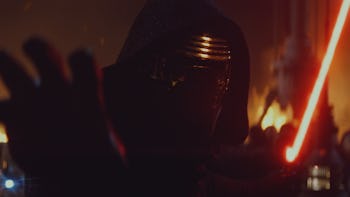 StarWars.com
If you weren't able to secure tickets to opening night for Star Wars: The Force Awakens following the release of the movie's final trailer Monday night, you're in luck: Just fork over hundreds and you've got yourself a ticket to be one of the first people to see probably the most anticipated movie of all time. Look, who cares that you can see it for regular admission prices a few days later, the $400 to see it at 7 p.m. on December 17 will be well worth it, right?
Fandango and MovieTickets.com were virtually non existent, proudly touting ironic 404 error messages at the chumps who kept clicking to see if they'd get a spot. But those who were lucky enough to snag multiple tickets are now taking to the interwebs to cash in on the Star Wars frenzy by inflating extra tickets to insane prices.
Two tickets for $100 is a bit much, but maybe reasonable given the amount of fandom surrounding the movie. One eBay user in New York listed ten tickets with a starting price of $500, but it ended due to an error in the listing. Hopefully it wasn't because they were missing a few extra zeroes in the amount. Another auction currently live listing in California has four tickets for sale with a starting bid of $400 with 25 users watching the listing.
Here's hoping that the watchers are only watching so they can see what poor bastard actually shells out that much money for tickets, and not people actually interested in emptying out their bank accounts for an opening day Star Wars seat.
But it gets worse. How about $1,000 for ten tickets in Los Angeles; $1,500 for four tickets in Pasadena; or $2,000 for four tickets in Portland, Oregon. Brace yourself for this one: How about two opening day tickets for $10,000?
What will be the real detail to watch for is just how much they actually sell for over the next few days, weeks, and months. Somebody please tell them the movie will be showing for a long time after December 18. Sure you get to see the movie before a lot of other people. But remember, the guy who sees it on December 28 is seeing the same movie as the poor schmucks dropping ridiculous amounts on tickets for December 18.