What's a Good Alternative to Tesla's $80,000 Model X?
The price for Tesla's Model X was set Monday at $80,000. What else is on the market for that price? 
by Sam Blum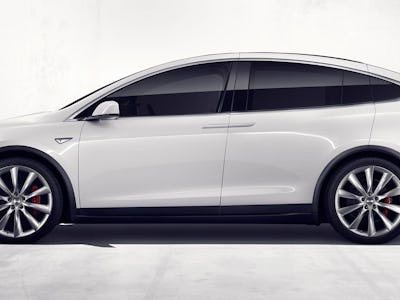 Tesla Motors
Unveiled back in September to roaring crowds, Tesla's Model X crossover vehicle — the one with "falcon wing" doors that open vertically — was always expected to hit the market at a steep price point.
In fact, it was no illusion that Model X, when equipped with its sleekest technology, would emerge at a staggering $132,000, but that didn't stop the most stalwart Tesla enthusiasts from laying down $30,000 deposits, effectively selling out the company's pre-order stock as early as November, 2014.
A year later, and the vehicle has officially hit the market: Model X starts at a base price of $80,000 for its most standard model, the 70D. There's an underlying question about Tesla's newest, super-expensive car, though: What else could you get for $80,000? After all, production on the standard model isn't slated to begin until the first quarter of 2016, and Tesla was recently subject to its first major recall, in addition to some controversy in Hong Kong involving its autopilot tech.
If would-be Tesla consumers are willing to significantly downgrade while still flying an eco- flag, they'd be smart to roll in a Prius. Otherwise, there's a glut of flashy sports cars, like the Audi A8L, or the Porsche Cayman GTS, which both come in at a similar, but slightly more modest price point.
Still, the zippy and decidedly less comfortable sports cars mentioned above can't overshadow what Model X makes up for in acceleration — 0 to 60 mph in 3.2 seconds — and gas mileage battery range, which is 250 miles per charge, on average.
Tesla has said that motorists can expect to save an estimated $9,000 over five years on gas expenses with Model X. Some drivers of other Tesla vehicles have lauded the efficiency, claiming that $9,000 can be saved in as little as 18 months.
It's still too early to say whether or not Model X will be worth its extravagant cost.
The car will be more expensive than the Model S, and the eventual Model 3, which is set for a speculative March 2017 release date.