The Chipotle E. coli Outbreak Hits 39 In Washington and Oregon
The CDC connects Chipotle to most of those sickened.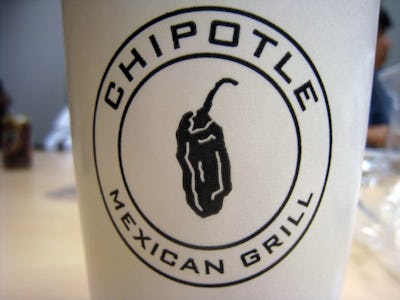 Katy Warner / Flickr Creative Commons
As of Monday, November 2, Chipotle temporarily shut down over 40 of its restaurants in the northwestern U.S. after an E. coli outbreak sickened 22 people in Washington and Oregon. Yesterday, November 4, the Centers for Disease Control and Prevention (CDC) released updated information that indicates the severity of the outbreak is increasing.
According to the new data, there are 39 people with infections from Shiga toxin-producing Escherichia coli O26 (STEC O26): 10 from Oregon and 29 from Washington. The data was collected during investigations by the Washington State Department of Health and the Oregon Health Authority.
Fourteen of the 39 (11 from Washington, three from Oregon) have been hospitalized, but there haven't been any reported incidences of hemolytic uremic syndrome or deaths.
The STEC O26 bacteria present in five of the cases (two from Washington, three from Oregon) has undergone DNA fingerprint testing, which has revealed that the bacteria in all five of the tested subjects does share the same DNA fingerprint.
As for the connection to Chipotle, the CDC reports: "Washington and Oregon report that most of the ill people ate at several locations of Chipotle Mexican Grill in those states before getting sick."
The CDC has expressed it has no information suggesting Chipotle outlets in other states are affected by the outbreak, but does note the Food and Drug Administration is testing various food items collected from Chipotle locations in Oregon and Washington for the presence of bacteria, with results to be reported once available.