A Brief History of Space Movies on Opening Weekend
How does 'The Martian' compare to other space movies like 'Gravity', 'Interstellar', or 'Apollo 13'?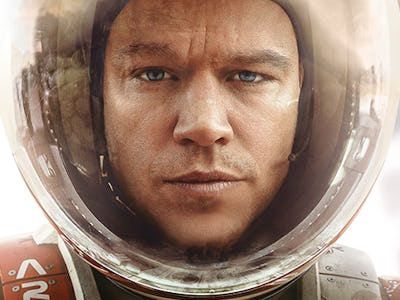 The film adaptation of Andy Weir's The Martian dominated this weekend's box office with a total gross of $55,000,000, proving two things once and for all: America loves space movies and it loves rescuing Matt Damon.
But to truly know whether this is an impressive weekend haul, let's look at the opening weekend of some other recent space movies and see how The Martian measures up.
'Interstellar', 2014
Christopher Nolan movies have become box office events, but this one underperformed from The Martian with an opening weekend of just over $47,000,000. This showed the world that America prefers space Matt Damon when he isn't evil, and it prefers space damon to space McConaughey — McConaissance and all.
'Gravity', 2013
With an opening weekend of a little over $55,000,000, Gravity is neck-and-neck with The Martian, showing that America loves watching big stars in dire situations in space. Also very famous actors. I'll show myself out.
'Prometheus', 2012
Also directed by Ridley Scott, Prometheus came close to The Martian but didn't quite measure up — with an opening weekend of $51,000,000 — showing that America still prefers space Matt Damon over space android Michael Fassbender.
'Moon', 2009
With an opening weekend of around $136,000, this oddball mindfuck of a film can't compete with the likes of Gravity and The Martian, but it wasn't trying to, with a first-time director and a limited theatrical release. Moon is The Martian's moody younger brother who is content to stay in his room listening to Dark Side of The Moon while The Martian is the life of the party.
'Sunshine', 2007
Directed by Trainspotting's Danny Boyle, this underrated gem had a dismal opening weekend in the US with just $242,964, furthering the conclusion that America can't handle spacemen who aren't Matt Damon — except perhaps when they're Dr. Spaceman.
'Serenity', 2005
With an opening weekend of around $10,000,000, Serenity showed that, although canceling Firefly was a mistake, the army of loyal Joss Whedon fans pre-Avengers was still a niche market.
'Star Wars Episode III: Revenge of the Sith', 2005
As this was a Star Wars film, maligned and all, it outperformed every other space movie with an opening weekend of over $108,000,000. The latest Star Wars installment is already looking like it will outclass them all, even ahead of its release.
'Apollo 13', 1995
With an opening weekend gross of around $25,000,000, this might have had half of The Martian's opening, but its momentum shows that Matt Damon is the Tom Hanks of our time, as long as he can shape up and stop putting his foot in his mouth.
'2001: A Space Odyssey', 1968
In its first theatrical release, this iconic film had total domestic gross that equalled The Martian's opening weekend gross, which demonstrates two things: Times (and prices) were different, and the film, which is now considered a classic, is far less universally accessible than The Martian's straightforward Robinson Crusoe-in-space narrative. Initial audiences had no idea what to make of those monoliths.
The cynical conclusion to be drawn from all this is that space movies perform best when they're thoroughly mainstream, covering topics with widespread appeal like Matt Damon and Star Wars. But the more optimistic conclusion is that that it really comes down to getting approval from Neil deGrasse Tyson.
Either way, with The Martian being the latest space movie in a long line to thrive at the box office, they've proven to be far from filmmaking's final frontier.
More About The Martian