ISS Astronauts Watched 'The Martian' a Week Early
A questionable entertainment choice for a group of people hurtling above the planet at 7.7 km per second.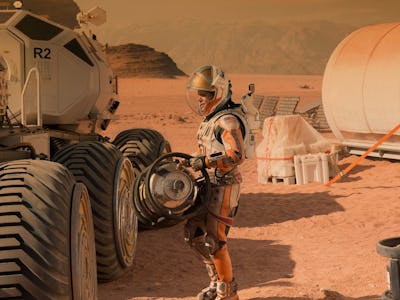 www.foxmovies.com/movies/the-martian
It turns out being an astronaut isn't all spacewalks and cruising around in low Earth orbit taking data from billion-dollar gadgets. When you're 250 kilometers (155 miles) above the Earth you'll need some down time, too.
The six lucky people on the International Space Station had a special screening of Ridley Scott's new Robinson Crusoe-in-space movie, The Martian, which doesn't even come out on terra firma until October 2.
It's a fitting if not questionable bit of entertainment for the crew currently on the ISS. The present mission is part of NASA's "Journey to Mars" initiative, first begun in 2014, which involves researching capabilities needed to send crewed space missions to the red planet by 2030.
According to NASA, "Astronauts on the orbiting laboratory are helping us prove many of the technologies and communications systems needed for human missions to deep space, including Mars. The space station also advances our understanding of how the body changes in space and how to protect astronaut health."
This isn't the first time the crew stopped for a little space movie R&R. They watched Gravity this past April, which means they must love watching people like them being put in life-threatening situations in space. Now that we think of it, a Martian / Gravity double feature is probably the most terrifying combination an astronaut could watch. Just add Apollo 13 and they'd have the most nerve racking triple feature in space.
Chances are you weren't on the ISS this past weekend, so you'll have to wait a week to see the movie for yourself.
More Martian: The Martian Author Andy Weir on Playing God with an Alien World