One Week Later -- Safe, Sound, and Famous -- Ahmed Finds His Clock Arrest Pretty Funny
He has a clock, so Larry Wilmore gives him a watch.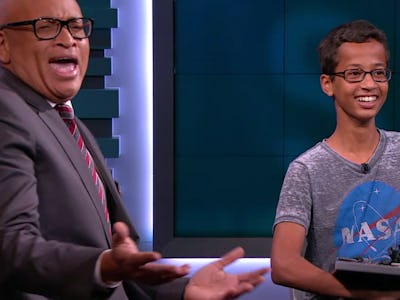 Last week, Texas teen Ahmed Mohamed was arrested at school for bringing in a clock that was mistaken for a bomb. The nation responded sympathetically, seeing the ridiculousness of the situation and the school's Islamophobia (Mohamed is Muslim) from afar.
The arrest led to an invitation to the White House, as well as New York's Maker Faire, which he will be attending. Last night, as Entertainment Weekly points out, he appeared on The Nightly Show with Larry Wilmore for an interview that you can watch here.
Wilmore had previously helmed a one-man panel about Mohamed once the initial news broke.
The interview showed Mohamed's tremendous sense of humor about the entire ordeal: Wilmore throws a softball about the clocks hanging on the studio walls. He later gets Mohamed to admit that getting arrested "was kind of cool," which the teen likened to doing "a nae-nae backward," as far as how the police twisted his arms.
Mohamed also said building the clock was easy and that he did it all intuitively — no instructions. Mohamed wants his next invention to be a "side hoverboard" — that is, making one of those scooters that rolls forward and backward go side-to-side. Wilmore heartwarmingly ends the interview by giving Mohamed a brand new Apple Watch.
Mohamed's Nightly Show appearance is comforting following his life-changing week. He did speak publicly once he was exonerated, but this is a much less serious endeavor. It's good to see him having fun and realizing the absurdity of the whole thing; he went from nerd to hero in 0 to 100 — real quick. He seems to have taken on the martyr role in stride. He has gotten a lot of new opportunities thanks to his former school's ignorance and seems very grateful for his opportunity to shine. More power to him.
Maybe he'll help out Wilmore's predecessor next.