Ta-Nehisi Coates Writing Marvel's New 'Black Panther' Comic
The award-winning journalist for 'The Atlantic' embraces his nerddom.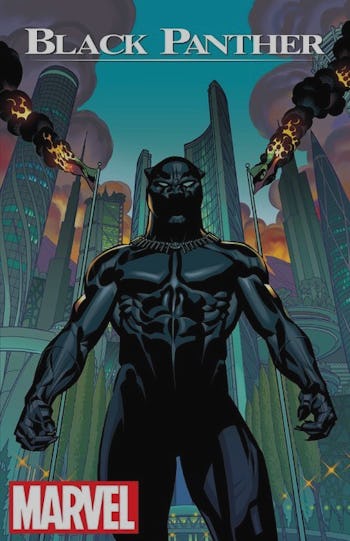 Marvel Comics
Ta-Nehisi Coates, a national correspondent for The Atlantic and a nominee for the National Book Award's nonfiction prize, is going full geek in a way that resonates with him the most: writing Marvel's new Black Panther series hitting comic book shelves next spring.
A renowned journalist and author who regularly tackles the cultural, social, and political climates of modern African-Americans, a mainstream comic book might seem out of the realm for the National Magazine Award winner. But as it turns out, writing Black Panther is a dream come true.
"[Comics were] an intimate part of my childhood and, at this point, part of my adulthood," he said in an interview with The New York Times. "It was mostly through pop culture, through hip-hop, through Dungeons & Dragons and comic books that I acquired much of my vocabulary."
Storm, Captain Marvel (Monica Rambeau), and Iron Man (James Rhodes) were the Marvel heroes Coates gravitated towards the most growing up in the mid-80s. "They were obviously black," he said. "I'm sure it meant something to see people who looked like me in comic books. It was this beautiful place that I felt pop culture should look like."
The new series will have Brian Stelfreeze as the series' cover artist with an as-of-yet unknown story artist.
Black Panther, one of Marvel's most popular and prominent superheroes, is recognized as the first black superhero in mainstream American comic books. Created by Stan Lee and Jack Kirby, the character debuted in Fantastic Four #52 in July 1966. The character hails from the fictional African nation Wakanda, and the name is actually a ceremonial title given to Wakandan warriors who prove worthy enough to earn it. In the comics, the most prominent inheritor is T'Challa, who eventually joins the Avengers.
Actor Chadwick Boseman will be portraying the Black Panther in next year's Captain America: Civil War before starring in his own standalone Black Panther feature in 2018.
Ethnically diverse superheroes have long been a part of Marvel's catalogs, but this fall will see the "All-New, All-Different" initiative prominently feature characters who deviate from the default "straight white guy" premise. Miles Morales, the half-black, half-Hispanic Spider-Man, will swing in Marvel's signature Avengers series alongside Sam Wilson, the black superhero The Falcon donning Captain America's mantle, Muslim teenager Kamala Khan as Ms. Marvel, and Jane Foster as Thor.
In their own lines, Asian-American whiz kid Amadeus Cho is becoming The Hulk and the Native American superhero Red Wolf is getting a series resurrection.
"One reason why I still enjoy books, including comic books, is that there's still more room for a transgressive diversity," Coates wrote in a recent op-ed for The Atlantic. "Outside of hip-hop, it was in comics that I most often found the aesthetics and wisdom of my world reflected."