Marvel Gives Native American Hero Red Wolf His Own Series
The hero debuted in the '70s, but will get his own story as part of a welcome new initiative.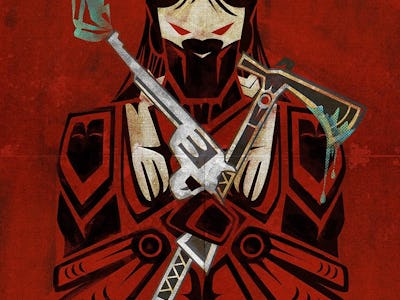 Marvel.com
Marvel seems to keep getting more and more diverse and that definitely isn't a bad thing. After announcing last week that their new Hulk will be an Asian American teenager, the comic book giant announced plants to bring back Red Wolf, the first Native American superhero. The character, who was first introduced in the '70s and recently returned in an alternate universe Marvel offshoot series called 1872, will have his own series going forward.
The move is part of Marvel's "All-new, all-different" reset, which is taking place later this year and will see the relaunch of many popular heroes. Red Wolf's inclusion may not be the biggest surprise to eagle-eyed Marvel aficionados. He was included in the bottom right corner of the image that accompanied the announcement of the new Marvel-wide comic reboots.
According to Mashable, Red Wolf will run in the Marvel canon with other superheroes like Spider-Man and the Avengers, and will feature a new origin story with a revamped set of powers different from previous stereotype-heavy iterations. He'll live in the American Southwest and battle local criminal elements.
What's perhaps more interesting is that Marvel has also announced that Native American artist Jeffrey Veregge will create the new Red Wolf cover art and consult on his overall design. "There's not a character like Red Wolf out there right now," Veregge said. "As a native, I'm really excited to see that he can do things, he can figure out things and stand with Captain America."
While simple representation of different people is beneficial, the strange bit about Red Wolf is that he's not connected to a particular tribe. He actually comes from another dimension. So, yes, he represents Native Americans, but only in the sense that Thor represents Scandinavian peoples.
Either way, with characters like Miles Morales as Spider-Man, and the new Asian American teen Amadeus Cho about to Hulk-out along with Red Wolf, Marvel is making moves. They finally realized that white dudes named Captain America aren't the only people worthy enough to be superheroes.