Marvel's New Comics Will Reflect 21st-Century America
The world is as colorful as their spandex.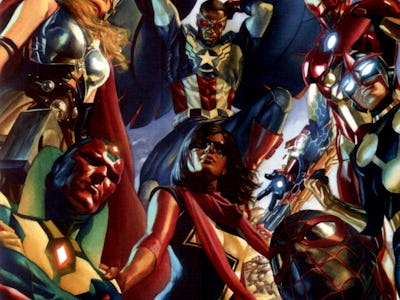 Marvel
Just a short week away from San Diego Comic-Con, Marvel has unveiled its brand new catalog of comic books that will hit stands September after the summer-long "Secret Wars" crossover. Not only will everything change, but their books are finally reflecting the America — and the global community — that enjoys them.
Partly to attract new readers via its massively profitable movies (and to synergistically promote them, hence three different Guardians of the Galaxy titles) and partly because they just have so many new dang heroes they don't know what to do with them, Marvel's new crop will be headlining in their own books and crossover titles. Staples like Steve Rogers' Captain America and Thor will step down in favor of a new Cap named Sam Wilson and a new Thor (SPOILERS!) Jane Foster.
Make no mistake: This is still Marvel. There's Wolverine, there's Hulk, there's Iron Man. But it's such a radically different Marvel that this reboot is far more significant than the empty, hollow reset DC did a few years ago its own initiative, the New 52.
Nor is Marvel discarding decades' worth of stories. Instead, Marvel is taking its two comic universes blending them. "Imagine there's two pizzas," editor-in-chief Axel Alonso explained during a press conference in January. "They're going to smash together. You're going to have all-new toppings. Some toppings are going to drop off … That's the new Marvel universe moving forward."
What this messy pizza Marvel has cooked is a beautifully diverse landscape of superheroes that look just like the people they're saving. Looking at the "All-New, All-Different" Avengers roster alone speaks volumes to Marvel's diversity initiative. "It's meant a great deal to a great many people," said writer Brian Michael Bendis a few weeks ago when Marvel brought its popular Miles Morales character as its new Spider-Man of the main universe.
In September, all of Marvel's new titles will begin with brand-new "#1" issues, allowing anybody to pick up and read without worrying about the 400 issues that came before. And for those who do care, those stories still matter.