New Chromecast With Better WiFi and Spotify Rumored to Debut This Month
It's all about streaming content.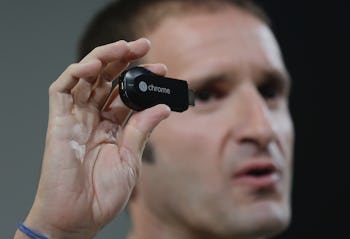 Getty
Google is dropping a new Chromecast at its September 29th event, and judging by the images and internal documents obtained by 9to5Google, you can expect to see a lot more people with hockey pucks plugged into their computers.
Or at least that's how the thinner, disc-like redesign appears. The update also appears to be coming out in multiple colors so that you can personalize your tech accessories.
Appearances aside, the guts on this thing look pretty sweet, with a lot in mind to improve streaming content. Presumably, the new models will support 802.11ac, an upgrade over the original's 802.11b/g/n Wi-Fi. As ArsTechnica noted, the hardwired Ethernet adaptor for Chromescast to help boost streaming over WiFi sold out earlier this year. The device will also come with a feature called "Fast Play" to establish a connection more quickly and stream content. With all that, no small wonder that yes, there's a support package for Spotify.
Meanwhile, Amazon's launching a 4k-ready Fire TV and Apple's announcing a major bulk-up on Apple TV's capabilities — notably, turning it into a gaming console.