Apple Has Turned Apple TV Into a Gaming Console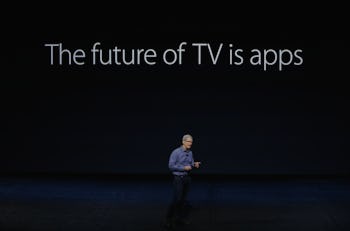 Getty Images
Integrated within the hardware and software revamp of the Apple TV, the computer giant has effectively morphed its signature TV device into a modern gaming console.
While apps are the center of the Apple TV, the major updates include the iTunes store's deep library of games including Crossy Road and new, upcoming titles like Guitar Hero Live. The "controller" is the Apple TV's new remote — Bluetooth 4.0, holds a charge for three months — with a touch surface, mimicking touchscreen technology for the big screen.
Video game consoles aren't just gaming consoles anymore. The PlayStation 4 and Xbox One also have apps like Netflix and Hulu, with voice activation similar to that of Siri on Apple TV.
Apple didn't demonstrate so-called "hardcore" games, so don't expect the likes of Destiny or Halo to be on Apple TV. Their gaming initiative dwelled on casual, less-intense gaming as just one of the functions of Apple TV. Contrary to rumors, there was no partnership with Nintendo or other gaming companies announced, so for now Apple is on their own in the gaming space.
The new Apple TV comes in two flavors: 32GB at $149, 64GB at $199. It will be released this "late October."