'WandaVision' leaks hint aliens will play a major role in Marvel Phase 4
Move over, S.H.I.E.L.D. There's a new agency in town.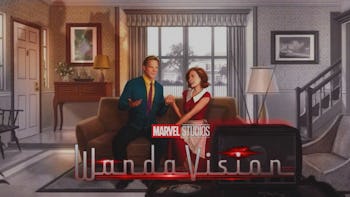 Marvel Studios
Marvel's Disney+ shows are poised to offer fans the chance to engage more deeply with the Marvel Cinematic Universe in Phase Four. While the next phase officially kicks off with next year's Black Widow, the seeds are being planted for an expansion into outer space. Recently leaked photos from the set of WandaVision confirm the existence of S.W.O.R.D. and hints that the agency will play a major role in Phase Four.
👉 Follow all of Inverse's WandaVision coverage at our WandaVision hub.
Set photos (via JustJared) from WandaVision revealed the first image of a S.W.O.R.D. agent, who stands on guard outside what looks like the agency's office building. The S.W.O.R.D. insignia is etched behind the agent and he stands stoically with his gun pointed downwards. He's wearing what looks like military gear, complete with a bullet-proof vest. The outfit is wildly different than the suits the agents of S.H.I.E.L.D have typically worn.
The photos don't provide much detail about WandaVision, but we already know quite a but about S.W.O.R.D. In short, the agency is S.H.I.E.L.D. in outer space. In the comics, the intelligence organization's sole purpose is to be on the lookout for any extraterrestrial threats and it was spearheaded by none other than Nick Fury.
Even more set photos from WandaVision offered the first glimpse of Teyonah Parris' Monica Rambeau leaving the S.W.O.R.D. building. First introduced in Captain Marvel, fans were initially confused as to what role Monica would play in WandaVision. However, since the intelligence agency will appear in the show, Monica's involvement makes much more sense. While she was young when Captain Marvel returned to Earth, she interacted with both Nick Fury and the Skrulls firsthand. Perhaps she grew up studying aliens and went on to work with S.W.O.R.D. Either that or Fury recruited her into the organization.
With that in mind, the MCU may have already teased S.W.O.R.D. without anyone being the wiser. The post-credits scene from Spider-Man: Far From Home revealed that Nick Fury hadn't been on Earth at all during the events of the movie. Instead, he was enjoying a simulated beach on a Skrull spaceship. The scene seemed more like a fun gag at first, but now that there's confirmation of S.W.O.R.D.'s existence, it's possible Fury was in space to oversee the launch of the organization's headquarters.
After all, Thanos proved to be an incredibly threatening alien who snapped half of Earth's population out of existence. It's possible Fury is setting up S.W.O.R.D. to prevent future Thanos-level threats. Now that the agency's been confirmed, the idea that Fury's involved is looking more likely than ever.
WandaVision will be available to stream on Disney+ in the spring of 2021.