What the hell is going on with 'American Gods' Season 3?
Orlando Jones' recent firing offers a rare look inside the complicated mechanics of TV production.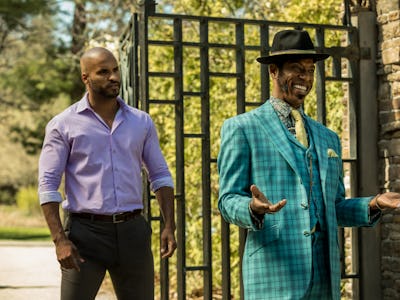 Starz
From the comfort of a living room couch, it's easy to take for granted the complex process behind making television. From drafting scripts, to filming, and post-production, it's an intricate Rube Goldberg machine of contracts, scheduling, unions, and egos. Just getting a show made is a monumental feat. Making a series that's both good and popular is just shy of a miracle. That's what makes the real-time crumbling of American Gods, the once-buzzy adaptation of Neil Gaiman's fantasy novel, such a bizarre spectacle.
On December 14, actor Orlando Jones revealed on Twitter he was fired from his role of "Mr. Nancy" a couple months back. On September 10th, 2018, I was fired from American Gods," Jones said, later correcting he was fired in 2019. "There will be no more Mr. Nancy. Don't let these motherfuckers tell you they love Mr. Nancy. They don't."
Jones says other characters, namely Omid Abtahi's Salim, and Mousa Kraish's The Jinn, have also been cut from Season 3 of American Gods. (Kraish confirmed his departure on Twitter.)
An official statement from production company Fremantle said the new season will center on a stretch of the novel that did not feature Mr. Nancy, Jinn, or Salim. For book readers, Season 3 will cover the chapters where protagonist Shadow Moon hides in a dreary Wisconsin town, away from the rest of the story's principal characters.
"The storylines of American Gods have continually shifted and evolved to reflect the complex mythology of the source material," Fremantle said in a press release. "Mr. Jones' option was not picked up because Mr. Nancy, among other characters, is not featured in the portion of the book we are focusing on within Season 3."
In a statement directly to Inverse, Fremantle elaborated:
"We stand by our original statement around the ever evolving storylines and characters that weave in and out of American Gods. While we greatly appreciate Mr. Jones' contributions to Seasons 1 and 2, we are disappointed he feels the need to make inaccurate accusations regarding the non-renewal of his contract. Our efforts are focused on Season 3 and working with our amazing cast, crew and creators."
In his Twitter video, Jones criticized current showrunner Charles Eglee, the fourth person at the helm in less than three years. The show was initially produced by Bryan Fuller and Michael Green, who left during Season 2. They were replaced by Jesse Alexander, who in turn was replaced by Eglee.
"The new Season 3 showrunner is Connecticut born and Yale-educated, so he's very smart, and he thinks that Mr. Nancy's angry, 'get shit done' is the wrong message for black America," Jones said.
Continued Jones, "This white man sits in that decision-making chair and I'm sure he has many black BFFs who are his advisors and made it clear to him that if he did not get rid of that angry god Mr. Nancy, he'd start a Denmark Vesey uprising in this country. I mean, what else could it be?"
Mr. Nancy had been one of the show's most popular characters. He's the latter-day incarnation of the African spider god "Anansi," taking on the form of a bespoke dandy. In his acclaimed debut that critics called "showstopping," Jones channeled the righteous rage of racial injustice, revealing — with wit and panache — to kidnapped African slaves the bleak 300 years that await them.
Over time, Jones took on a more significant role behind the scenes, which makes this sudden firing all the more strange. In the video and later elaborated upon in interviews, Jones revealed his role grew beyond actor, extending to writer when the show had nothing written and cameras needed to roll. Jones further notes he had written the "disenfranchised" characters of color, including Yetide Badaki's African god Bilquis, and New Media, played by Korean-American actor Kahyun Kim, "because no one cared."
In a move Jones speculates to be "a conscious decision to hurt me personally," he was fired in September "at the eleventh hour." It was just as Season 3 began pre-production, with actors set to "fly in the following week."
"Suddenly they went radio silent in August for about three or four weeks," Jones told Variety. "There was no reason for me to assume that I wouldn't be doing what they had all told me I would be doing, which is writing, producing and performing on the show."
The prickly nature of contracts forced Jones to stay attached to American Gods, keeping him from other opportunities. (He goes into this specific detail on Blerdgurl.)
This latest debacle culmination of cracks in American Gods that have been apparent since a 2018 report from The Hollywood Reporter exposed the "disarray" behind the production.
THR's reporting further supports Jones' recent accounts of writing episode scripts. "Actors have been rewriting script pages, and Fremantle, which had hoped to trim the budget in the show's second season, is now spending frantically in order to simply finish the season," the actor elaborated on Blerdgurl. The delays forced American Gods on hiatus until its second season premiered in 2019, to lukewarm reviews.
The making of American Gods Season 3 is still underway, so more of the show will make it to TV in the future. (Starz has not yet announced a premiere date.) But Season 3 will not have many of the show's most familiar characters, including Nancy, a trickster who often gave viewers, and protagonist Shadow, a much-needed dose of truth. In a time when there's a new, must-see show premiering every week, it's easy to forget just how much work it takes just to make it a reality. As American Gods shows, it ain't heaven, but hell.