How Orlando Jones Is Taking Comic-Con Worldwide
It's all about the love, and the love should be coming at you 365 days a year.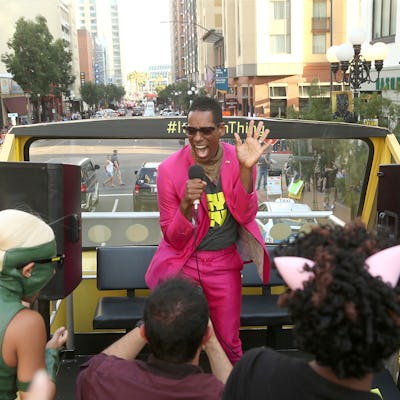 Getty Images / Jesse Grant
Orlando Jones admitted the only good reason to wear a three piece suit outside in the dead heat of a California July is to channel the Joker. Jones' pink and green suit was a closet cosplay (where fans dress as their favorite character with things solely from their existing wardrobe), and it's one of myriad reasons he's wildly popular actors at any convention he goes to.
At SDCC, Jones buttoned up his jacket to sit snugly over the waistcoat in 89 degree heat so he looks presentable presiding over the dozens of fans lined up and waiting to be married by him. Like everything at SDCC, this is a promotional event, in this case for SYFY and Jones' new fandom-focused app, Cosmunity. But unlike in many activations and interviews that occur at the pop culture mecca, Jones has an energetic grin that shows he actually wants to be here.
"I'm always looking for ways to connect with the fans; they're the reason I have anything resembling success in my life," said Jones. His relationship with fandom has indeed shaped his career dramatically in the last decade; before his stint on Sleepy Hollow, Jones was best known as the "up yours" guy from the 7UP commercials despite turns in cult classic comedies like Office Space. But his role as Captain Frank Irving brought Jones in direct contact with not only supernatural hordes but also a vibrant corner of the internet he hadn't really interacted with before: fandom.
If there's one thing you should know about Orlando Jones, it's that he doesn't do anything by half measures. Once he dipped his toe into shipping, tumblr, and the wilds of headcanons, he was all in. In fact, the American Gods star got ordained just to do this event at SDCC.
"I'm here for all the love because love is in the air. Can you smell it? Oh, that's beautiful, it's lovely, it's potpourri in the air," exclaimed Jones as he reviewed a massive binder with info on the couples he's marrying in a two-hour sprint on the last day of SDCC. Jones went through the online process at Universal Life Church to get his clergy credentials, and so far he had married two couples and done vow renewals for another 21, and he acclimated himself with a dossier for every single pair.
"I need to get a sense of the special moments in their lives: how did they meet, did fandom bring them together, how long have they been coming to comic-con, who are they cosplaying and why," said Jones while getting a final touch up before jumping up on the altar. It's imperative for him to make this day as special as possible for each couple who stands before him. It's more than personalizing an autograph (although as Jones proves when fans approach him during a break, he's good at that too), it's Jones making sure the focus is where it needs to be, on the couples themselves.
"You forget what a big moment this is when you're literally professing your love to the person you want to spend the rest of your life with, so for me, I feel like it's really a bigger honor for me to be apart of their ceremony and less that I'm the big star here. It's about them," said Jones. "I'm surprised that on a few occasions I had to fight back some tears," he continued. So far he remarried a Sleepyhead, who he met on twitter years ago, to her longtime husband; a couple who met in line for the first Twilight; and another couple who met in a chatroom for The Phantom Menace. "They had their first date watching The Phantom Menace, literally in the chat room, and then they came to their first comic-con together in 2002, which was the same year that The Time Machine was the big movie, and I played Vox — so now they're standing at the SYFY chapel getting married by Vox! Which is just crazy!" said Jones.
Jones mused on what it is about fandom that brings couples together. "You know, it's funny, some people were saying that they didn't get to do the big wedding that they wanted to do, so they wanted to do this instead. Other people had another wedding that they'd already done, and they wanted to do this as a part of that experience, too. But I think, mostly, people love the thought of getting married here because comic-con's about love!" said Jones. "You fall in love with a show, a character, you meet a friend, and you build these relationships, and getting married here for a lot of people was about reaffirming the fact that they met their significant other through something else they both loved."
Fandom is all about connection in Jones' mind. It's one of the many reasons he's here spreading the word about his new app, Cosmunity. Created by Zac Cooner, COO, and Cole Egger, CEO, after their first comic-con ever — in Austin — they saw a missed opportunity to carry con culture beyond than weekend pilgrimage that most nerds make at least once in their lifetime.
To Cooner and Egger, Cosmunity is more than Tumblr, Twitter, Reddit, Etsy, AO3, and Meetup — it's a combination of all the above. "Those are all separate platforms, but Cosmunity is really about the intersection of where there isn't one," said Egger when describing what makes the app so unique. "It's really geared towards the fans and all about what makes fandom so unique. It allows them to build a community the way they see fit rather than the other way around," added Cooner.
For example, any of the couples who were married by Jones at SDCC could have organized the event right on the app itself. First, an event invite, and then a "fandom page" set up specifically to discuss the wedding. Perhaps in the marketplace, the couple might buy custom cosplay pieces for their special day (without the service fee Etsy would charge, notes Cooner). The couple might also share the story of how fandom brought them together, inviting other internet friends who might not be able to make the event to share their own memories of watching the two flirt awkwardly on a message board in the early aughts. Creating a hashtag and an event album is so simple that it could be a page on The Knot. Finally, couples could even send out their thank you notes for attending on the app and invite those in their hometown to a second, more local setting.
If this sounds like an online app meant to take people offline — that's exactly what it is. "Many fans are already connected in real life — many have met in person, often at a convention. It's what happens after that meeting, which is where Cosmunity comes in," explained Jones. "The community is definitely there, however, the con infrastructure doesn't help them work through their day at a con or show them activities at the con that they'd be interested in. Also, the con apps disappear after the event ends, so Cosmunity is really a way for users to make the most of the con experience and stay connected year round. I think that's incredibly powerful and important, simply because there aren't any places you can do that."
Egger added, "We want people to stay connected year round on the app — and also meet up in person wherever they are. Maybe you're the only person in your hometown that's obsessed with a particular anime, and you don't know that there's someone in the next town over that you should definitely be hanging out with."
The only storm cloud on the horizon stealing Cosmunity's shine? The ever-dreaded internet troll, a noxious figure known to ruin everything good and pure on the internet, including fandom. No matter where fans turn online, the true constant is this: Someone will make you feel like shit for loving something deeply or not loving the same thing as them just as deeply. Jones, Eggers, and Cooner have dealt with their fair share of these and know it's a big concern for their users.
The team seems to practice what it preaches, though, as their main form of moderation is the users themselves. "Oftentimes the person who started the fandom page on the app is the moderator," explained Cooner. "We also ask users if they want to moderate if we see them become really active on the page."
Cooner himself often goes above and beyond to keep communities welcoming and open by going through complaints from users himself. He acknowledged with a laugh that that wouldn't be possible as they continue to scale up, but, for now, his faith in the community is being rewarded. "We'd never allow anyone to threaten another user with the open racism and sexism found on, for example, Twitter," added Eggers. "That person would immediately be banned from using the app [if rape and deaths threats were made]," he continued.
This is a huge reason the two were able to bring Jones onto their project. "We're addressing those cases as they come up and when needed, will ban users from Cosmunity," said Jones. "As the managers of the platform, that's a role that's vital to us, to protect our users. Today, there are digital tools to pick up fairly quickly if you're dealing with a bully, and we'll look to understand where it's coming from and ban users where necessary — Cosmunity is not a platform that will allow cyberbullying and shaming. There are plenty of platforms that allow users to troll, and that's a big difference between us and some of the other platforms. If you do that on Cosmunity, you'd be gone."
As the app grows, Jones and company want it to be a celebration of what the trio loves most about fandom: love itself. Though there are some significant hurdles in front of them, standing next to Jones on a scorching California day, it's hard not to believe that they'll succeed. They've already brought together so many couples in the span of five days. What will happen if they have all year?