Holy heck, "Crisis on Infinite Earths" had a shocking Netflix crossover
There's even hints that Constantine will return to Lucifer's neck of the woods on Netflix.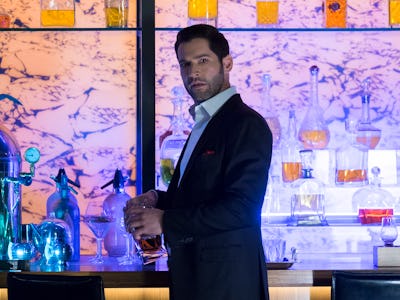 Netflix
Of the many possible DC shows fans expected to see in "Crisis on Infinite Earths," one of them was a truly hellish surprise. And it may lead to another surprise crossover on Netflix.
In "Crisis on Infinite Earths, Part 3," which aired as an episode of The Flash on December 10, the Anti-Monitor's destruction of the DC multiverse continued with the erasure of Earth-217 — home of the short-lived 2002 WB series Birds of Prey, with Ashley Scott reprising her Huntress and Dina Meyer appearing as Oracle via voice-over — and, devastatingly, the destruction of Earth-1, the nexus of the Arrowverse.
It's all sad, but in this crossover bonanza, there was still time to party. Sort of.
Hoping to restore Oliver Queen's soul, Constantine (Matt Ryan), John Diggle (David Ramsey), and Mia (Elizabeth McNamara) visit one of Constantine's contacts in Los Angeles, of Earth-666: a club owner named Lucifer Morningstar, played by Tom Ellis, from the cult hit NBC/Netflix series Lucifer.
Wait, what?!
In one of the most clutch surprises of the year, the Arrowverse family of shows — Arrow, The Flash, Supergirl, Legends of Tomorrow, and Batwoman — managed to build a connecting bridge directly to Lucifer, a TV show you may be shocked to learn is based on a DC Comics property, if you didn't know that already.
Lucifer, which premiered as an NBC series in 2016 and will air its fifth and final season on Netflix, is based on a comic book series of the same name published by the once prestigious, now shuttered DC imprint, Vertigo. The comic itself was a spin-off of Neil Gaiman's influential series The Sandman, which had a place in the mainstream DC Universe.
In "Crisis," Constantine consults Lucifer for help to rescue Oliver Queen. Because of the anti-matter particles in the atmosphere, Constantine's abilities are limited, so he needs "Lucy" to get to purgatory to find Oliver with Mia and John. Lucifer hands him a magical tarot card that gives them access to purgatory for a short time.
What's especially compelling is that the two-minute exchange reveals there's history between Constantine and Lucifer. "Maze," a major character in Lucifer played by Lesley-Ann Brandt, is mentioned as a means of leverage between the two. Lucifer apparently "owes" Constantine for Maze, but what Constantine did to Maze is completely unknown.
Some fans on social media, reeling from Lucifer's surprise appearance in the Arrowverse, are now speculating that Constantine may show up in a future episode of Lucifer. That would make the third series Matt Ryan's Constantine has made guest appearances in, following Arrow and Legends of Tomorrow.
It's actually really funny that Lucifer, a DC character canceled by Fox, shared most of his screen time with Constantine, who was also canceled by a broadcast network (NBC) after one season in 2015.
But with the events of "Crisis on Infinite Earths" still unfolding, it's probably unlikely. Because with all Earths in the multiverse done for now that Anti-Monitor has gained the upper hand, there isn't any possible reality where Constantine can pop over to Lucifer's club for a pint. Constantine is gone. Lucifer is gone. Everyone, except the seven Paragons, are gone. It's up to them to save the multiverse now.
Only then will Constantine consider a drink with the devil.
"Crisis on Infinite Earths, Part 4" airs January 14, 2020 on The CW.