The University of Phoenix pays up
The University of Phoenix allegedly targeted military veterans and spouses, and paid for it with tax dollars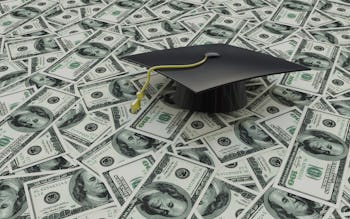 Shutterstock.com
The University of Phoenix is canceling $141 million in student debt and paying $50 million in cash after a federal complaint that it's a scam operation that made false claims it could get graduates jobs as major companies, from Adobe to MGM to Twitter.
The Federal Trade Commission announced the news on Tuesday against the for-profit university.
An aggravating TV commercial is at the center of the case. It shows an African-American woman driving her car in a sprawling parking lot outside a University of Phoenix building, looking for a spot. We cars float into the sky and the parking spaces are replaced with colorful 3D logos of the companies, illustrating how grads float away to prosperous jobs of which they can be proud, at high-profile technology and entertainment companies. But that wasn't the reality, claims the FTC complaint.
It gets worse: The University of Phoenix allegedly targeted military veterans and spouses, and paid for it with tax dollars: "The company has been the largest recipient of Post-9/11 GI Bill benefits since the program's inception."
The $50 million in cash paid to the FTC from the University of Phoenix will be paid to "a certain designated population of students" who enrolled between October 1, 2012 and December 31, 2016.
Regarding the loan cancellation: It only applies to students who took out loans directly from the University of Phoenix. If students took out federal loans or other private loans to pay for the University of Phoenix, that is not included in this case. However, it might be easy to find a sympathetic judge, given this FTC settlement. You can review the full court documents here.
In a statement sent to Inverse, the University of Phoenix dodged responsibility by saying the ad campaign "occurred under prior ownership and concluded before the FTC's inquiry began."
After cooperating fully with the FTC's inquiry, we are pleased to have reached this settlement agreement and resolved this matter, which principally focused on a marketing campaign that ran from late 2012 to early 2014. The campaign occurred under prior ownership and concluded before the FTC's inquiry began. We continue to believe the University acted appropriately. This settlement agreement will enable us to maintain focus on our core mission of improving the lives of students through career-relevant higher education, and to avoid any further distraction from serving students that could have resulted from protracted litigation, as well as the time and expense of the litigation itself."
For-profit colleges were a popular business model in the '80s through to the early 2000s, but came under scrutiny as the marketing promises rarely matched the results. In 2016, DeVry University settled for $100 million, which was split down the middle between paying back students and canceling debt.
In 2011, the New York State attorney general's office investigated Trump University, a for-profit university founded by Donald Trump. The business charged students up to $35,000 per course. In 2016, the Trump organization settled for $25 million. Some 6,000 students received a chunk of the money in the university, and Trump agreed to pay $1 million in fines to the state of New York for violating state education laws.
The University Phoenix website states it offers degrees and programs in business, communications, criminal justice, education, healthcare, nursing, psychology, behavioral sciences, sciences, technology, and continuing education. It was founded by John Sperling in 1976 in Phoenix, Arizona, with eight students, and expanded to San Jose, California in 1980, and added online classes in 1989. It grew to Fortune 500 company with more than 12,000 employees. When he died in 2014, fellow Bay Area powerbroker Nancy Pelosi lauded Sperling for "improving access to higher education for thousands of non-traditional students."
A 1997 story in The New Yorker titled, "Drive-Thru U", observed the University Phoenix culture this way:
The university is shaped by the needs of working adults in the corporate economy: classes are held at night, and courses consist of 5-6 weekly sessions taken one right after another. Sperling drew his faculty from the working world instead of the academic. The writer attended several U. of P. classes and found the students engaged, but lacking intellectual, as opposed to professional, curiosity. Ideas had value only insofar as they could be put to use. Detractors have called the school the McDonald's of higher education. Yet the distinction between profit-making companies and educational institutions is becoming increasingly moot; the fastest-growing sector of higher education is, in fact, the "corporate university," which typically provides training for middle and upper management.
More about the FTC: