Google Slapped With Meager Fine for Privacy Violations
They're not losing any sleep over this one.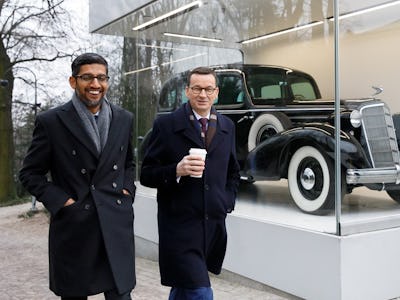 Flickr / Kancelaria Premiera
The Federal Trade Commission is forcing Google to pay a $170 million fine for violating children's privacy. The agency claims Google's subsidiary, YouTube, had been tracking children to target its advertising without their parents' consent. The FTC is calling this a "record" penalty for violating the Children's Online Privacy Protection Act.
"The settlement requires Google and YouTube to pay $136 million to the FTC and $34 million to New York for allegedly violating the Children's Online Privacy Protection Act (COPPA) Rule," the agency announced in a statement on Wednesday. "The $136 million penalty is by far the largest amount the FTC has ever obtained in a COPPA case since Congress enacted the law in 1998."
Considering Google is worth $167.7 billion, we can't imagine Google CEO Sundar Pichai is going to be crying himself to sleep tonight. This fine represents about .001 percent of the company's value. That's not to say this rather tiny fine is surprising, though, as this is what happens every single time a large corporation is penalized for violating people's rights.
FTC Chairman Joe Simons said in a statement that YouTube "touted its popularity with children to prospective corporate clients," which the FTC claims helped the company earn millions of dollars targeting children with ads.
The FTC claims YouTube told Mattel, the maker of Barbie and Hot Wheels, that "YouTube is today's leader in reaching children age 6-11 against top TV channels."
It would seem to the keen observer that YouTube knew it was profiting off of targeting children and that the company probably has a few lawyers who knew to do this without parental consent is against the law, but why should they care? They're quite aware the worst thing that could happen to them would be a fine like this one.
See also: Uber Pays $148 Million Penalty for Hacking Cover-Up, But Thousands of Drivers Won't Share in the Spoils
Even FTC Commissioner Rohit Chopra thinks this fine is laughable. Chopra said in his dissent that Google's violation of the law was "extremely serious" and that the Commission is repeating the same mistake it made with its "flawed" $5 billion Facebook settlement from July.
"No individual accountability, insufficient remedies to address the company's financial incentives and a fine that still allows the company to profit from its lawbreaking," Chopra said. "The terms of the settlement were not even significant enough to make Google issue a warning to its investors."
It seems many lawmakers agree that until agencies like the FTC start making these fines more substantial and start demanding these companies make major changes if they want to avoid further penalties, then they're not going to change how they do things.