"Crisis on Infinite Earths" Titans cameo makes TV streaming history
It may not be 'Avengers: Endgame,' but it was still ambitious.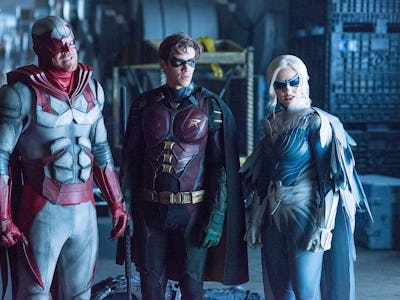 Warner Bros. Pictures
Crisis on Infinite Earths made history on Sunday with the first-ever crossover between a network series and a premium streaming show. Though it lasted just a few seconds and was nothing more than recycling existing footage, the Arrowverse managed to bridge the gap between its CW-based shows and Titans on the DC Universe app. Not even Marvel and Netflix could pull that off.
In "Crisis on Infinite Earths, Part 1," the heroes of The CW's Arrowverse family — Arrow, The Flash, Supergirl, Legends of Tomorrow, Batwoman, and soon Black Lightning — united to prevent a common enemy, the Anti-Monitor, from destroying their realities. The episode ended with the heroes suffering a devastating blow that saw the death of one major character, but it's how the crossover began that's historic.
In the opening prologue, the crossover reveals other Earths suffering the Anti-Monitor's wrath, including some familiar to fans: Earth-X, the setting of 2017's crossover; Earth-89, home of Tim Burton's Batman; Earth-66, home of the classic 1966 Batman television series; and finally, Earth-9, home of the gritty and foul-mouthed Titans and the shared universe of TV shows on DC's streaming app, DC Universe. The episode had Alan Michael Ritchson and Curran Walters, as Hawk and Robin respectively, getting killed by the Anti-Monitor's anti-matter waves.
Also produced by Arrowverse's Greg Berlanti, Titans premiered in 2018 as the flagship show for DC Universe, a subscription platform whose future remains in doubt with the coming launch of the all-Warner Bros. app, HBO Max. The show just completed airing its second season, with a third in pre-production.
While the two Batman homages are big, it's the quick visit to Earth-9 for Titans that's game-changing. Never before has a network superhero series (in this case, Supergirl, which aired the first episode of "Crisis") ever had a crossover with a streaming show. Crossovers have almost always happened between other network or other streaming shows, but never both. Marvel managed to create a few solid bridges between its movies and network shows (namely Agents of S.H.I.E.L.D., reinforced with Samuel L. Jackson's appearances as Nick Fury), but Agent Phil Coulson never met anyone from the Netflix shows.
Runaways, Marvel's only show on Hulu, will have a crossover with Cloak & Dagger in its third season set to premiere this Friday. But Cloak & Dagger airs on a cable channel (Freeform), and even still, the Arrowverse did it first.
Unfortunately, setting the bar doesn't mean the bar is in any way astonishing. The Titans cameo in "Crisis" was just two recycled shots of its actors edited to make it look like the Anti-Monitor's waves were killing them. The shots were reused from the series' first episode of Season 2, with a completely different original context. None of the characters in Titans interacted with the Arrowverse's characters in any meaningful way.
Still. Titans happened in "Crisis on Infinite Earths." They're canon now! Which means the door is potentially open for their real, genuine involvement in a future event. Though the producers insist that next year's Arrowverse crossover will not be up to this scale, who knows what possibilities will present themselves a year from now.
Now if only the next cameo could be Doom Patrol.
"Crisis on Infinite Earths, Part 2" will air tonight, 8 p.m. Eastern on The CW.