The "Crisis on Infinite Earths" cast has even more cameos to be revealed
Not all heroes get press releases. Marc Guggenheim says there are "at least six" more cameos yet to be revealed.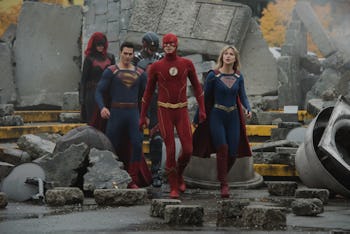 The CW
For DC fans who think the crossover special "Crisis on Infinite Earths" could use even more superheroes, well, the holidays have come early. In a new interview, former Arrow showrunner and "Crisis on Infinite Earths" producer Marc Guggenheim revealed that not every guest character for the special is known, and that more cameos will be revealed as the episodes air.
On Friday, in an interview with IndieWire, Guggenheim said "there are at least six characters" who show up in the first three episode of the special "that we haven't announced."
"And I'm working on even more for the last two," Guggenheim said. "So we've obviously announced a bunch, but I really want the audience to be able to tune in and still be surprised. So there are surprises of sorts that we've managed to keep secret, and not without great difficulty, I will tell you."
So, who else is waiting in the wings for "Crisis on Infinite Earths"? Obviously, Guggenheim didn't identify the mystery characters, nor did he even hint which eras from DC films and TV they come from.
But you can rule out characters from the DCEU. As Guggenheim said, his team "reached out to a lot of people," particularly movie stars, who declined for various reasons, ranging from budget to scheduling.
"[T]here were people who didn't want to do it," he said. "There were people who would only do it for amounts of money that we could not ever afford. And there were other people who really wanted to do it, but couldn't for scheduling. That was the case with a lot of, I have to say, the movie stars that we reached out to. The thing about movie stars is, they're all shooting movies. And unless those movies are shooting in Vancouver, we're kind of out of luck."
Personally, I'm dying to know which movie actors from the DC film franchise would have been game for the crossover had the shows been able to afford them or could squeeze shooting into their schedules. I suspect Shazam! star Zachary Levi, who drinks wine with Arrow star Stephen Amell, would not have needed convincing to join the Arrowverse as his Shazam-ified Billy Batson.
"Crisis on Infinite Earths," based on the 1985 DC Comics event series of the same name by Marv Wolfman and George Pérez, is this year's crossover special for the DC TV shows on The CW network: Arrow, The Flash, Supergirl, Legends of Tomorrow, and Batwoman. It's an annual tradition that started with the 2014 two-part episode "Flash vs. Arrow."
Although it will be the biggest special yet due to the amount of guest characters as well as its actual length (a five-part episode), the producers told IndieWire there are already plans in store for next year's special — one that will not be as "ambitious" as this year's special.
"Just last week I was having conversations with Greg [Berlanti] and with Mark Pedowitz about what next year's crossovers could look like, which is quite frankly insane," Guggenheim said. "I think we kind of can't help ourselves. I can tell you right now that we have no intention of trying something this ambitious next year. I think that would be a mistake."
In 2020, the Arrowverse will lose its namesake series Arrow, as that show airs its final episodes in 2020. Still, just because the Arrowverse can't be as big again doesn't mean it can't still be exciting. Maybe a smaller-stakes murder mystery could be the 2020 special? There's a great title for it too: Heroes in Crisis.
"Crisis on Infinite Earths" begins Sunday, December 8 at 8 p.m. Eastern on The CW.