'Marvel's Spider-Man' sequel may come to PlayStation 5 sooner than expected
Could we see a teaser at The Game Awards next week?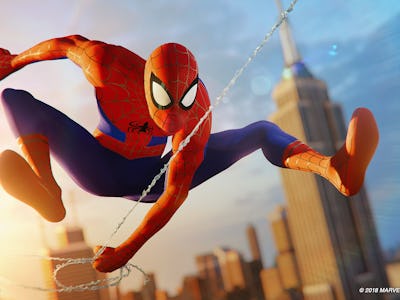 Sony / Insomniac Games
Spidey might swing his way onto Sony's PlayStation 5 much sooner than anticipated. Marvel's Spider-Man was only released on PS4 a year ago, but its success and Sony's acquisition of Insomniac Games have essentially guaranteed a sequel for the PS5. So when should gamers expect another web-swinging adventure?
It took Insomniac roughly four years to create Spider-Man, with development beginning in 2014. That would suggest fans would need to wait at least a few more years for a follow-up. But Imran Khan, former Senior Editor at Game Informer and co-host of the Kinda Funny Gamecast claims Sony and Insomniac will shock the world with a sequel announcement very soon.
"Spider-Man 2 is probably not coming at [the PS5] launch, but it's a 2021 title," he said during the Monday episode of the podcast. "I assume Insomniac started working on that thing immediately… I know too much about this so I can't speculate too much. I think Spider-Man 2 will come sooner than we think."
Khan backed up his point by saying that Sony has demonstrated the computing and graphics capability of the PS5 using the cityscape of the original Spider-Man as a benchmark.
Back in May, Wall Street Journal reporter Takashi Mochizuki tweeted footage of Sony CEO Kenichiro Yoshida demoing how the PS5 can render Spider-Man's environment roughly ten times faster than the PS4 Pro. The fact that Sony utilizes Spider-Man as a way to exhibit the PS5 to investors and shareholders suggests that a Spidey game for the PS5 is a shoe-in. But its timeline still remains a bit of a mystery.
Neither Sony nor Insomniac have officially mentioned a sequel, and the release dates for high-profile games are always subject to change. (The Last of Us Part 2 is just the latest example.) That said, if Sony was planning to release Spider-Man 2 in 2021, a reveal trailer should come relatively soon.
Insomniac announced the first Spider-Man at E3 2016 more than two years before it launched. That could mean that we could hear about the sequel as early as The Game Awards on December 12. But Sony might also be waiting for the PS5 launch in late 2020 to announced Spider-Man 2 to further build hype around its new hardware.
Either way, diehard Spidey fans can rest assured that they'll be able to parkour through the streets of New York City with the best console graphics of all time.