"Crisis" photos confirm Routh's Superman is more important than we thought
Also: Black Lightning, Lex Luthor, and classic Flash!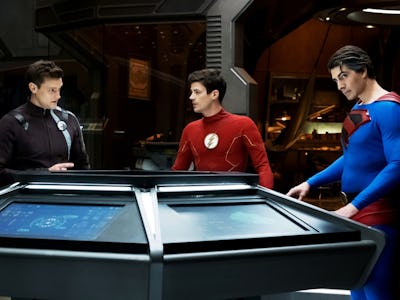 The CW
It's a better costume party than any Halloween you've ever seen. New photos from an upcoming episode of The Flash, which will air the third hour of the five-part special "Crisis on Infinite Earths," the new photos show Black Lightning's debut in the Arrowverse, Vibe's return, and John Wesley Shipp's classic Flash. It also confirms that Brandon Routh's Superman isn't just a one-off thing, but a major role with a second episode in the crossover.
On Monday, The CW released new photos of "Crisis on Infinite Earths," this year's DC TV crossover special. Based on the 1985 comic book miniseries by Marv Wolfman and George Pérez, the special will see dozens upon dozens of superheroes unite to stop the Anti-Monitor from destroying the multiverse.
A five-part special, the event will take place over episodes of Arrow, The Flash, Supergirl, Legends of Tomorrow, and Batwoman. Photos from Supergirl and Batwoman were previously released, while Arrow and Legends of Tomorrow won't air their episodes until January 2020.
This leaves The Flash, which released its official teaser photos today. In them are an array of faces old and new; Cress Williams, from The CW series Black Lightning, appears in the special as his title character, the first time the character officially joins the canon of the "Arrowverse." Also returning is John Wesley Shipp, who once again reprises his role as Barry Allen from the 1990 CBS series The Flash. Jon Cryer also returns as Lex Luthor, who debuted last season on Supergirl.
Carlos Valdes, who stars as Cisco on The Flash, again suits up as Vibe. For those not up to speed, Cisco willingly gave up his superpowers in order to have a "normal" life this season, but it appears the events of "Crisis" will need Vibe more than ever. Thus, Cisco dons the jacket and glasses of Vibe once more.
But the biggie worth paying attention to is Brandon Routh's Superman, a combination of both his role from the 2006 movie Superman Returns and a costume lifted directly from Alex Ross in the 1996 graphic novel Kingdom Come. The new photos confirm that Routh isn't playing Superman for a cheap one-off in Batwoman and will show up in even more episodes than we previously thought.
Due to the general overcrowdedness of "Crisis on Infinite Earths," it may have been easy to assume that special appearances like Routh's Superman would be just a one episode thing. Nope! These photos confirm we're getting Routh's Man of Steel for just a bit longer. Let's hope we can get to the very end.
See the photos below.
The CW also released the first 40-second trailer of "Crisis on Infinite Earths," which you can watch below.
"Crisis on Infinite Earths" begins December 8 at 8 p.m. Eastern on The CW.