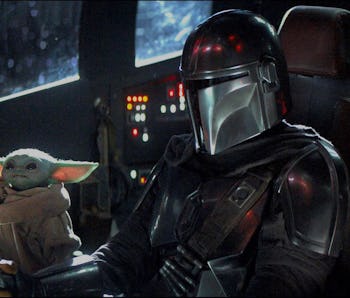 Entertainment
What time does 'The Mandalorian' Episode 5 release on Disney+?
And what do we know about the plot?
Lucasfilm
A brand-new episode of The Mandalorian is almost here. But what's the exact release time for Mandalorian Episode 5 on Disney+? Here's everything you need to know so you can get your weekly Baby Yoda fix as soon as humanly possible.
When exactly is the Mandalorian Episode 5 release time?
The Mandalorian has established that all new episodes are released on Disney+ at 3:01 a.m. Eastern time. That means you'll have to either stay up ridiculously late, or wake up early and watch it before heading off to work or school or whatever else you do to keep busy all day. Otherwise, you'll have to wait until Friday evening to catch up on Mando's adventures, which means avoiding spoilers for an entire day and missing out on the first wave of new Baby Yoda memes.
For any lucky West Coasters out there, Episode 5 drops into your laps at 12:01 a.m. PT. So staying up to watch The Mandalorian is a lot easier if you're on Pacific time.
What's the plot synopsis of The Mandalorian Episode 5?
Episode 4, "The Sanctuary," confirmed that things on The Mandalorian are finally in full-tilt action mode. While it's still unclear what the show's overarching story actually is — seriously, what's the deal with Baby Yoda? Why's it so important? — we should expect even more momentum on the series plot and more development of the Mandalorian-Baby Yoda relationship.
However, based on the official plot synopsis, it sounds like Episode 5 could be yet another bottle episode as Mandalorian settles into an episodic format that's less focused on a big, overarching plotline and more interested in week-to-week adventures.
"The Mandalorian helps a rookie bounty hunter who is in over his head," the Episode 5 summary reads.
After Episode 5, there will only be three episodes left before Season 1 ends and we're left waiting and wondering ahead of the Season 2 premiere. So make sure you take time to get caught up on The Mandalorian now before Episode 5 finally arrives.