Amidst calls for Snyder Cut, Henry Cavill has "not given up" on Superman
The star of Netflix's 'The Witcher' still wants to play a man who can fly.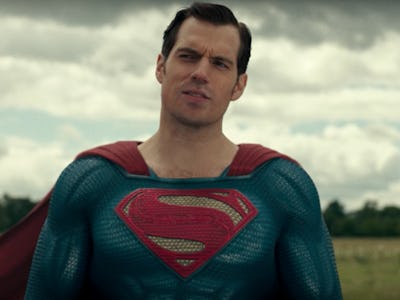 Warner Bros. Pictures
The world may have moved on from the Man of Steel, but not Henry Cavill. The former (?) DC film star, set to headline Netflix's dark epic fantasy series, The Witcher on December 20, recently opened up about his determined grip on Superman, a role he's "not given up" just yet, and, of course, he also discussed the infamous "Snyder Cut."
On Tuesday, Men's Health published a feature profile on Cavill, the 36-year-old film star, as the magazine followed Cavill to a Burbank comic book store, House of Secrets. Cavill revealed he nearly had a cameo in Shazam! as Superman (something director David F. Sandberg also told us earlier this year), but couldn't make it due to filming conflicts with Mission: Impossible — Fallout. It was this that prompted Cavill to explain his determination to continue playing Superman, even if online rumors suggest he's done with the DC Universe.
"I'm not just going to sit quietly in the dark as all this stuff is going on," Cavill said. "I've not given up the role. There's a lot I have to give for Superman yet. A lot of storytelling to do. A lot of real, true depths to the honesty of the character I want to get into. I want to reflect the comic books. That's important to me. There's a lot of justice to be done for Superman."
He added, "The status is: You'll see."
There is currently no word on another movie starring Henry Cavill as Superman, be it a sequel to Man of Steel (2013) or Justice League 2.
The release of this profile is peculiar, as this past weekend Cavill's co-stars in the 2017 film Justice League all came out in support of what fans call the "Snyder Cut." Yes, even Ben Affleck said something.
In a nutshell, the Snyder Cut refers to director Zack Snyder's version of the movie, which the director walked away from after his daughter's death.
In 2017, when the news broke that Joss Whedon, director of The Avengers, would replace Snyder as director to oversee reshoots with new scenes written by Whedon, Warner Bros.' Toby Emmerich told The Hollywood Reporter that it wouldn't mean a major overhaul for the movie.
"The directing is minimal and it has to adhere to the style and tone and the template that Zack set," he said. "He's handing a baton to Joss but the course has really been set by Zack. I still believe that despite this tragedy, we'll still end up with a great movie."
On Rotten Tomatoes, the film has a 40% "rotten" score.
Since the release of Justice League, which made a paltry $657 million worldwide (compare to competitors like Avengers: Infinity War, released a few months later and grossed $2 billion), fans have petitioned Warner Bros. to release the Snyder Cut, with the social media hashtag #ReleaseTheSnyderCut.
On the weekend of the film's two-year anniversary, stars Affleck, Gal Gadot, Ray Fisher, Jason Momoa, and more within orbit of the DC franchise — Aquaman star Yahya Abdul-Mateen II and Watchmen showrunner Damon Lindelof — tweeted in support of a Snyder Cut release. Everyone's spoken, except for Henry Cavill.
But Cavill made his thoughts known on the "Snyder Cut" way back in 2018, during the promotional tour of Mission: Impossible — Fallout. Last summer, he told Yahoo Movies UK, "I don't know what difference it's going to make."
He continued:
""I think it might be entertaining, for sure, and go, 'Oh look, now I've scratched that itch,' but it's not going to change anything that I can think of, it's not going to make huge amounts of money all of a sudden for a studio."
It's unknown if Cavill has since changed his mind about the Snyder Cut. Even now, the actor has yet to say anything else beyond his comments with Yahoo Movies UK. Speaking to Men's Health, he said when it comes to the general discourse, "I'm very behind."
As one can imagine, shooting a totally different show for a year in Poland will do that to you, but it's curious to know what exactly could be the Kryptonite shard that gets Superman to bend.
The Witcher premieres December 20 on Netflix.