Zack Snyder reveals new Snyder Cut images teasing expanded Flash storyline
It's starting to feel more real than ever.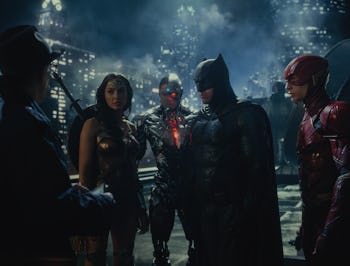 Warner Bros. Pictures
It feels like once a week, Zack Snyder shares an unseen piece of the mythical "Snyder Cut" these days. The long-anticipated director's cut of 2017's Justice League is the stuff of internet legend these days. Its existence was once debated, but after numerous reputable sources (including one of the film's stars, Jason Momoa) confirmed they've seen it (and after Snyder himself began sharing so much of it with his followers) it's starting to feel more real than ever.
The last week or so has seen Snyder share a couple of snippets of the film, both of which largely relate to Ezra Miller's Barry Allen (better known as The Flash). The most image isn't an actual still from the film, but rather a snippet of production art. It features the Flash staring down some sort of massive explosion. There's not much to glean from this one other than the fact that there are clearly some Flash action sequences that ended up on the cutting room floor.
The other, however, is pretty huge in the grand scheme of the Snyder Cut. Actress Kiersey Clemons was cast as Iris West, the longtime love interest of Barry Allen, in Justice League but ended up cut from the final film in theaters. While stills of her in the film have been uncovered since then, Snyder recently shared the first photo of Iris and Barry onscreen together.
This one feels pretty significant. Clemons has stated there are still plans for her to return in the eventual Flash solo film, which has gone through a number of writers and directors in its rocky road to the big screen. So what we're looking at here is technically still the character's debut in the DCEU.
The last Snyder Cut tease isn't Flash-centric, but it's intriguing nevertheless, as it comes straight from one of the actors in the film. Cyborg actor Ray Fisher shared a screencap just this morning of a scene that appears to have been cut from the film's final version. The still seems to feature the film's villain Steppenwolf invading the lab of Cyborg's father. Cyborg can be seen standing between his father and Steppenwolf, appearing to protect him from the Apokaliptian villain. Accompanying the photo is the now-infamous hashtag, #ReleaseTheSnyderCut.
There's a good chance we'll never get to see Zack Snyder's full cut of Justice League. Still, every piece of it that makes its way into the public eye is a fascinating glimpse of the film that might have been. For now, that may have to be enough.